Weekly Overview: Human Rights Situation in Mon State, Karen State, and Tanintharyi Region
Fourth Week of October 2022
HURFOM: As the end of October 2022 comes to an end, the Human Rights Foundation of Monland (HURFOM) remains concerned and worried about the worsening hostilities in Southeastern Burma. The rise of arbitrary arrests and abductions, and subsequent unlawful detainment of civilians are in grave violation of many international laws.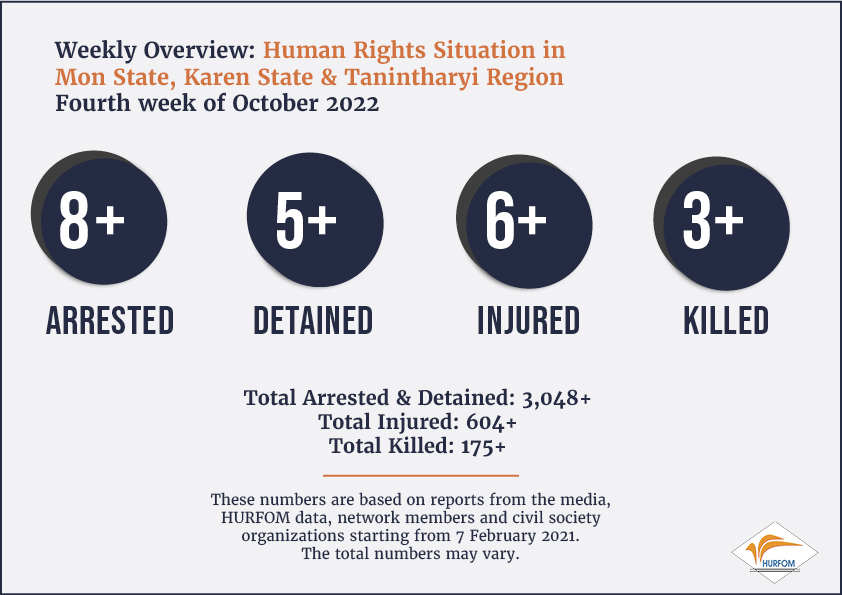 The United Nations Special Rapporteur, Tom Andrews, is among civil society organizations who have urged members of the United Nations and donors to support the call for cross-border humanitarian aid and protection for those on the ground. Most disappointing across the last week was ASEAN's failure to name the Burma Army as the primary aggressor in conflict across the country in their statement following an emergency meeting discussing the situation in Burma.
In Mon State, martial law has been imposed in every township, according to a directive known as Article 14. Local people are prohibited from going outside at night. According to local sources, martial law has disrupted the ability of rubber plantation workers to get to work: "It's impossible to do our jobs because we must do our work at night between 2AM and 4AM to tap the rubber trees. If something happens to us, no one will be able to protect us. We are vulnerable daily workers. We dare not resist the junta," said a 30-year-old plantation worker from Thanbyuzayat Township. In villages of Mudon Township, village Administrators have made unique "ID cards" for the plantation workers, including their picture, name, ward/village, and phone number of the village Administrator. Workers are to carry these cards and show them if they are stopped by the military. They said if something happens to them, they will solve the problem. However, there is low confidence in this plan.
Across HURFOM target areas, since the attempted coup, civilians have expressed a lack of assurance in the promises of the junta-backed village administrators. They have extorted money from workers who wanted to have one of these permit-to-work cards. In addition, interactions with the junta troops at night can be deadly On September 23 2022, a villager from Ka Log village, Southern Ye Township, Mon State was shot and killed by the military security forces. Soldiers said he breached martial law. "My rubber plantation is in Thanbyuzayat, and we live in Mudon Township's Administrative zones. They granted the "ID card" but we're always stopped by the junta soldiers at the check-point on the way to our work anyways," said another rubber plantation worker in Kwan Hlar village.
Fighting in Karen State also continues to forcibly displaced innocent civilians. On October 23 2022, close to midnight, junta forces relaunched a series of air attacks and artillery shells targeting Hlaing Kwei village, located in Yay-Pu-Gyi village tract, Kawkareik Township, Karen State. This caused more than 200 villagers from 8 villages to flee. A 40-year-old villager who spoke to reporters told HURFOM: "Two artillery attacks came first and exploded near the village. Then the villagers started fleeing. Some managed to escape to the village's Buddhist Monastery. Later, some soldiers from the Karen National Liberation Army arrived and told the villagers to not take refuge in the monastery because the Burma Army will target them. Due to the attacks by the junta, locals from Wizzar-gone village, Hlaing Kwei, Win village, Win Pote, Hpan-Khar-Gone and Kyun-Taw villagers, Kawkariek approximately 300 fled the attacks overnight.

In Dawei, more young people are being abducted including a female villager, Ma Mee Nge, who was taken away on 22 October 2022 at 8:30 PM by military intelligence officers. A 28-year-old man was also arrested and taken away.
These cruel and unabating attacks speak to the inhumanity the soldiers of the Burma Army possess. They have no care or concern for the security of local people, nor their livelihoods. It is clear that the regime has no care, no regard for preserving and upholding the rule of law. The military junta has chosen to embark on an ongoing volatile campaign of destruction.
Comments