Weekly Overview: Human Rights Situation in Mon State, Karen State, and Tanintharyi Region
Third Week of August, 2022
HURFOM: Across the last week in target areas of Mon State, Karen State and Tanintharyi region, the Human Rights Foundation of Monland (HURFOM) reported a further escalation in the human rights situation on the ground. Since HURFOM began documenting atrocities committed by the military junta post-coup, we have become more concerned about the level of inhumanity being witnessed and the lack of international action.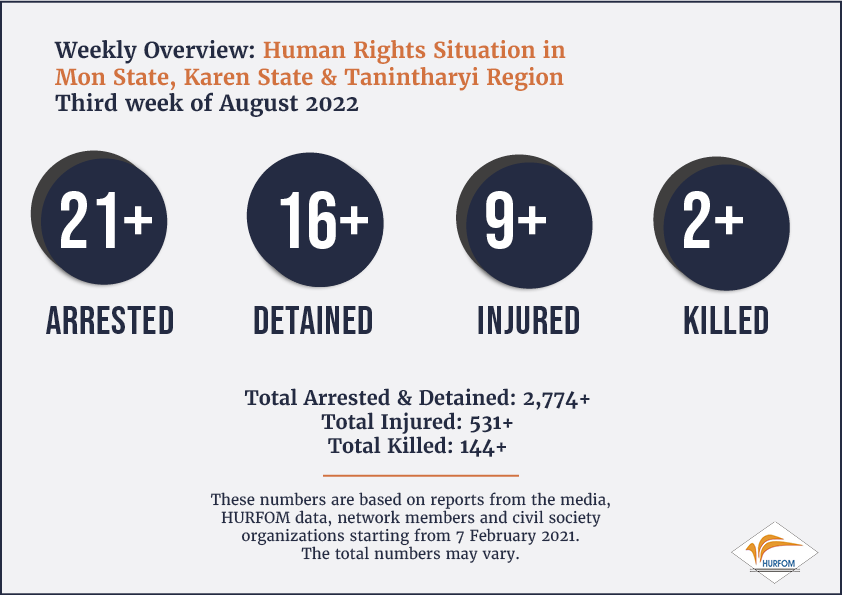 Displacement is rampant in Southeastern Burma. Thousands have been forced to flee their homes at a moment's notice, and are only able to bring a few belongings. As a result, they are hungry and extremely limited in their access to medicine, food, water, shelter, and basic survival materials. Women, children, and the elderly have been struggling amidst the harsh conditions of the jungle and trying to cope with the uncertainty surrounding safe return. Many of those who have gone back to their villages have been shot and killed by soldiers still occupying their homes. In other cases, villages have been scorched and homes raided.
From August 10 to 14, the junta forces from the Southeast Command, who are based in Mawlamyine, came and gave orders to forcibly demolish approximately 60 farm huts built in the fields in the villages of Maekro, Kohpanaw, and Kwan Ngan. "They came and ordered approximately 50 farmers who live on the farm to destroy the farm huts. If not, they'd burn them all down and penalize the owners. We use these shelters to rest in the fields during our farming times. We have to destroy them out of fear." The soldiers did this in an attempt to destroy any possible places of shelter which local armed opposition groups may seek to take shelter in. As a teacher affiliated with the Civil Disobedience Movement said, "This violates civilian rights to housing and access to food security."
In Karen State, indiscriminate firing and attacks in local areas continues to threaten the survival of civilians. Junta forces Infantry Battalion No.97 indiscriminately fired artillery missiles towards at least three villages. One person was killed, and seven injured in Kawkareik Township on the morning of 15 August 2022. These indiscriminate shots were the cause of death of a two-year-old child, and an elder, U Tin Maung, age 77, who was seriously injured in his back.
Last July, 35 houses and four cow stables were destroyed in Thayar Gone village from indiscriminate firing by the junta. Local villagers who fled the village due to the artillery attacks said that another five residential houses in Maung Ma Yew Village were also destroyed.
Ongoing torture, indiscriminate shots, and arbitrary arrests during midnight raids by junta army troops and police forces is ongoing in Hpa-an town, Karen State. The families and friends of the young civilians who were arbitrarily detained and tortured during midnight raids on August 17 told the reporters that the troops seized at least seven young men, including their sons. Burmese Army troops based in Myaing Kalay, Hpa-an, and some local police forces raided three houses in Khayae Rd, Ward No.4, Hpa-an.

They grabbed seven young individuals without arrest warrants. The neighbor who witnessed the incident said that the arrested young men were kicked by Army boots and hit by the gun stock on the head. When the junta and police forces departed from ward No.4, they indiscriminately fired several gunshots.
Similarly, Since August 13, junta forces operating under LIB No. 285 detonated heavy weapons into the village of Kyaung-Neint village, Palaw Township, Tanintharyi region. The village committee confirmed that there were no casualties or damages due to the attacks. However, these indiscriminate attacks of artillery shells led approximately 600 local villagers to flee their homes, livelihoods, and properties over the last two days.

The attacks are getting worse and becoming more regular. Thus, reinforcing the need for urgent international action.
Comments