Weekly Overview: Human Rights Situation in Mon State, Karen State, and Tanintharyi Region
First Week of July, 2022
A weekly update by the Human Rights Foundation of Monland (HURFOM) on the situation on the ground. Summary data includes Mon State, Karen State and Tanintharyi region.
Analysis
Across the last week in Mon State, Karen State and Tanintharyi region, pro-democracy members and supporters of the Spring Revolution continued to be ruthlessly targeted by the Burma Army, and junta-backed armed groups.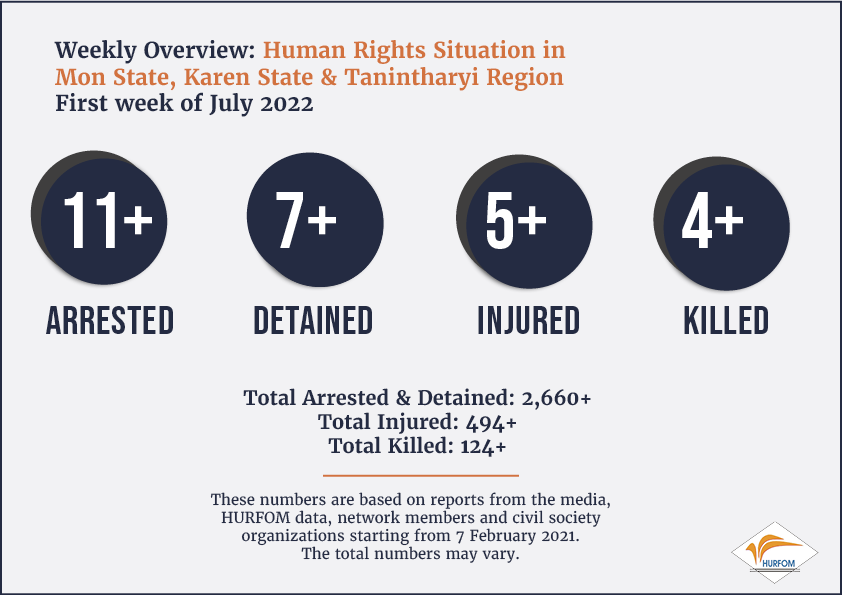 It was reported that a of the National League for Democracy (NLD) party chairman who was abducted by the junta forces on June 22 in Bilin Township, Mon State, was found dead in a ditch on 7 July, according to the local villagers. U Kyaw Myo Min and his coworkers, U Pan Myint and U Ko Ko Maung were arbitrarily arrested by the junta forces in Paw Kee village, Bee Lin Township, Mon State. On July 2, the villagers found and unearthed the two bodies of detainees. The bodies were found handcuffed, and it appeared that the junta troops had inhumanely tortured them.
Last month, HURFOM condemned the rising incidents of torture in target areas, and subsequently across the country. Torture in particular is a tactic which is deployed to scare and intimidate villagers. It is a way to force confessions and to exert power over unarmed, innocent populations. These acts have been committed with impunity. Villagers expressed to HURFOM that victims are denied their final death rights before they are killed. There are growing levels of frustration and uncertainty amid the current situation.
Across HURFOM areas, there have been reports of people being detained by the junta, and tortured to death in military run prisons. All political prisoners are subject to state-sponsored violence in the form of torture. Sexual violence is also considered a form of torture that robs civilians of their dignity. HURFOM has reported incidents of sexual violence against women while being interrogated. Female inmates have also been deprived of food and water. Women in Burma are regularly denied their rights in military custody and are an increased risk of being victims of sexual violence. Prison conditions are unsanitary and also deprive prisoners of their fundamental human rights.
Internally displaced people (IDPs) and war-affected refugees at the Palaw IDPs camps in Tanintharyi are facing food shortages amid increasing clashes and instability in the region. The number of IDPs in the Palaw resettlement sites and camps has increased from 1,166 last month to almost 1,950 families this month. This is a rough estimate and may be higher on the ground. Most refugees/IDPs are from Lae-Thit Shar, Nang-Taung, Palaw-Kone, Kyaung-Naint and Hmaw-Mi villages, Palaw Township, Myeik District in Southern Tanintharyi Region, and there are many nearby villages. Emergency response workers told HURFOM that the situation has become incredibly stressful as people are starving.
In Mon State, a Mawlamyine University student, Ko Myo Thura Aung, who was abducted by the junta forces on June 30, 2022, still has not been able to be reached by his family. He was studying in his fourth year of Physics and is accused of merging with the Civil Disobedience Movement, according to the Moulmein University Students Union.

The unrelenting attacks against civilians must end. HURFOM has joined civil society organizations in our growing calls for accountability and consequences against the Myanmar junta who continues to act with impunity. Beyond words of condemnation, action is needed to truly hold the military junta to account.
Comments