Weekly Overview: Human Rights Situation in Mon State, Karen State, and Tanintharyi Region
Last Week of June, 2022
HURFOM: Junta forces in southeastern Dooplaya, Karen State, have been deploying relentless attacks against local villages with heavy shelling and airstrikes.
Full Analysis:
As June 2022 came to an end, the Human Rights Foundation of Monland (HURFOM) observed the ongoing volatile tactics and human rights violations continuing in target areas. An additional layer of worry is the growing presence of other armed and violent groups like the Pyu Saw Htee and Black Kite Brotherhood who are believed to be sponsored by the military junta. These militias have targeted innocent civilians, predominantly those affiliated with the pro-democracy movement.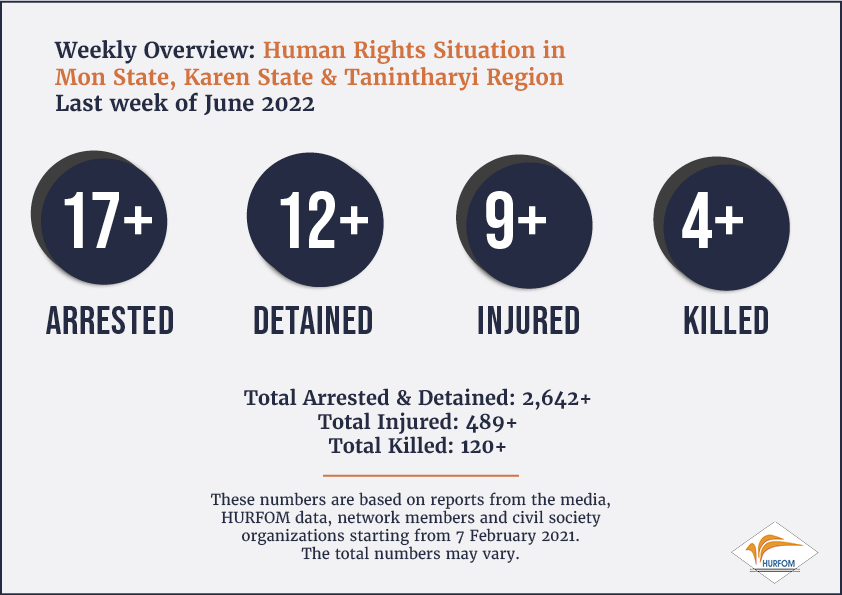 Over the last week, the Burma Army increased their attacks particularly in Karen State, promoting calls for Karen rights groups to call for urgent action including sanctioned aviation fuel, and a global arms embargo. Airstrikes on 1 July, in Thay Baw Boe village and Dooplaya district wounded five civilians, with three in critical condition. HURFOM has documented the growing numbers of internally displaced people (IDPs) in Karen State as the junta increases their presence, despite multiple orders from the Karen National Union (KNU) for the military to immediately retreat and withdraw all their forces.
The junta forces in southeastern Dooplaya have been deploying relentless attacks against local villages in the areas with heavy mortar shelling and with airstrikes. At least 7 airstrikes targeted 16 villages located in Dooplaya District. Throughout the month of June 2022 alone, HURFOM reported nearly 3,500 civilians newly displaced in Mon State, Karen State and Tanintharyi region.
Dawei has continued to be targeted by the junta as offensives worsen in the area. At 11:30 PM on 26 June 2022, joint troops of the junta sponsored militia forces and junta soldiers from Light Infantry Battalion (LIB) No.406 raided five houses in Kadak Gyi village, Long Lone Township. A 60-year-old couple was arrested and had tied their hands behind their backs. They were shot and killed at close-range. The victims were residents of Kadak Gyi village, U Thaung Win.
In a separate case, U San Win, a 50-year-old man from Goh-Inn village, Longlone, was also shot dead in front of his house. The Dawei District Strike Committee announced that the junta troops also looted a motorcycle with some gold jewelry. Homes in Kadagyi village were destroyed, and some valuables and banknotes were stolen. The military junta has been committing violence in LongLone Township actively between June 16 – 26, killing six in total.
In Mon State, homes are being scorched. Junta forces' Light Infantry Battalion No. 9 continued to burn remaining houses in the village since the morning of June 26, destroying more than 60 houses in 4 villages in Thaton township. More than 110 civilians' houses in 7 villages in Thaton township have been burned to the ground since June 26, 2022.

In addition, between June 25 and 26, villagers from Hpa-Paing, Kyauk-Taung, Kyauk-Taung-Kalay, Inn-Ywa, Saw-Ei-Poe, and Naught-Kadote (upper village) were attacked by indiscriminate shots fired by artillery (120 mm) from the 9th Battalion. Hundreds of locals have been fleeing their homes and seeking refuge in safer areas of the Karen National Liberation Army-controlled parts. "We have more than 150 houses in my native village. The junta opened fire with heavy artillery, forcing approximately 1,400 villagers to flee their residences," a villager originally from Kaw-Kyar-Tae village described. "We've received six cases of injuries and two deaths during the junta's invasion since the first week of June 2022," an emergency response team member told the HURFOM reporter.
The situation in Burma continues to unravel, the safety and security of civilians must take precedent. The grave human rights violations committed are ongoing, yet the military evades accountability. There must be concrete actions and steps forward which make clear that the military is not free to violate international laws.
Comments