Weekly Overview: Human Rights Situation in Mon State, Karen State, and Tanintharyi Region
Week Four, June 2022
HURFOM: The last week of June was met with more strife and hardships by communities across the Human Rights Foundation of Monland's (HURFOM) target areas. Cases of theft, extortion and raids by the military junta are rampant and continue due to the lack of accountability channels in place. Civilians have been forced to endure layer upon layer of uncertainty as their livelihoods remain in jeopardy due to the junta's growing presence.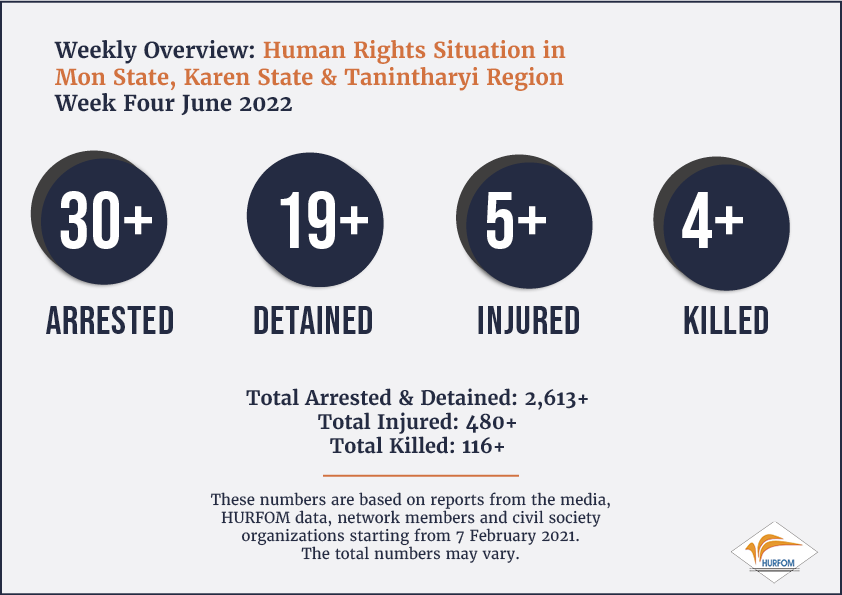 On 26 June 2022, HURFOM acknowledged and condemned rising cases of torture on the International Day in Support of Victims of Torture. Torture is a tactic which is deployed to scare and intimidate villagers. It is a way to force confessions and to exert power over unarmed, innocent populations. These acts have been committed with impunity. Villagers expressed to HURFOM that victims are denied their final death rights before they are killed. There are growing levels of frustration and uncertainty amid the current situation.
HURFOM field workers have received multiple cases of torture which have increased since the 1 February attempted coup. Political prisoners are routinely denied their rights and fundamental freedoms. When there have been protests in the prisoners, they are beaten, denied access to medical treatment, and are cut off from visits from their family. They are shackled, forced to live in deeply inhumane conditions and deprived of their dignity. Across HURFOM areas, there have been reports of people being detained by the junta and tortured to death in military run prisons. All political prisoners are subject to state-sponsored violence in the form of torture.
Across target areas, junta-backed militias are committing acts of brutal state-sponsored violence. This includes a group known as "the Black Kite Brotherhood" who killed two villagers and destroyed a house in Eai Ka Ni village, Yebyu Township, in Tanintaryi Region on 24 June 2022. The group arrested Ko Myo Ko and Ko Yan Pine Soe of A Ka Ni village and killed them near Watt Chaung village. Then, they abandoned their bodies, and scattered their group's logos around the scene, as reported by a local resident. The group then invaded a house owned by a National League for Democracy (NLD) party supporter in order to arrest him. Because their target was not at home, they detonated a bomb in the house. "On that day, the whole village was noisy with the sounds of gun shoots and a bomb blast. Then, they tied the daughter of the NLD support inside the house and left," said a villager. The two young men who were killed by the group were not supporters of any political parties, They were just ordinary villagers who made their livelihoods peacefully.

In a similar violent incident, a 50-year-old man from Ka Nyin Inn village, from the Wun Ford village track, Yebyu Township was killed at his home by an unknown group on 16 June 2022. Since the coup, the military has frequently killed innocent civilians in the Tenasserim Division. Other armed and violent groups like the Pyu Saw Htee and Black Kite Brotherhood are believed to be sponsored by the junta, and they have targeted family members of the NLD supporters and the People Defense Force (PDF).
In yet another case, the junta-sponsored thug forces, Pyu-Saw-Htee, joined the junta forces, arbitrarily arrested ten villagers as porters, and killed two of them in Kyik Hto township, Mon State on 22 June 2022, according to an escapee who spoke to HURFOM.
These cases highlight the need for concern as those who rally behind the junta are doing so with vengefulness and no hesitation to resort to violence.
Comments