Weekly Overview: Human Rights Situation in Mon State, Karen State, and Tanintharyi Region
Week One June 2022
Weekly update on the situation in Karen, Mon & Dawei since the attempted coup:
13+ Arrested
8+ Detained
6+ Injured
3 killed
In May alone, HURFOM reported 52 medical workers were dismissed and 6 activists were sentenced to 2 to 5 years in prison.
Full Analysis:
As the month of May ended, the Human Rights Foundation of Monland (HURFOM) released findings which found evidence of a worsening humanitarian crisis with nearly 30,000 newly displaced people across target areas. In addition, extortion, bribery and ransoms demanded by the military junta have continued to wreak economic turmoil. Livelihoods have been stunted by the General's incompetency. Since 1 February 2021, peace has been denied to millions of civilians across the country as fighting occupies their villages. Many still dare not go home. Some have sought shelter and safety along the Thai-Burma border. However, they have largely been denied and deemed 'illegal' by Thai soldiers who refuse to allow them to cross. Humanitarian aid is urgently required to meet the growing needs of the sick, and vulnerable people trying to survive amid devastating circumstances.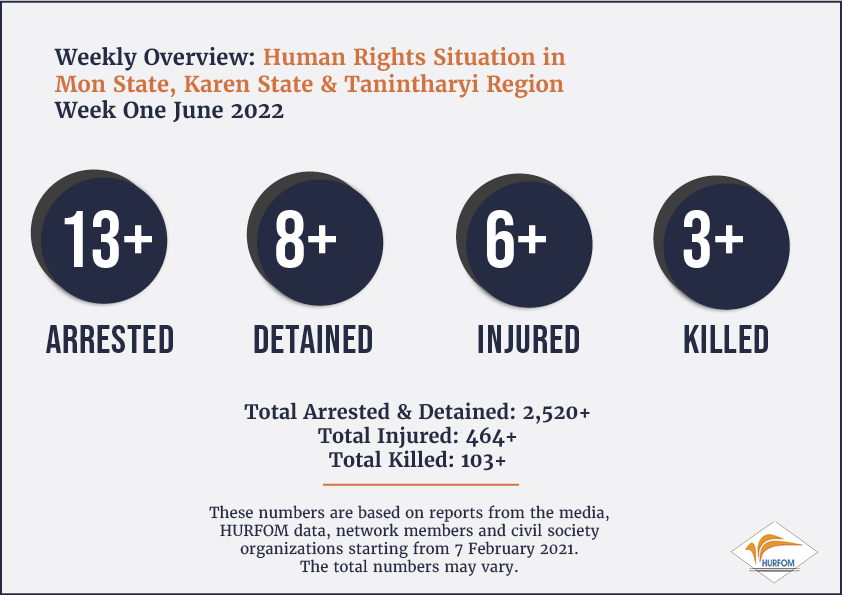 HURFOM has observed that health workers are being targeted, particularly those affiliated with pro-democracy movements. In May 2022 alone, 52 medical workers were dismissed. The junta appointed Health Minister, Dr. Thet Khaing Win, issued orders dismissing 52 medical experts, doctors and medics in seven townships in Karen State for organizing activities against the dictatorship. In the last 15 months, 150 civilians have lost their jobs in Karen State. The majority are health workers, nurses, pharmacists, lab technicians, and general health workers including staff from public health sectors and obstetricians. As a result, they are struggling to survive. Ethnic health organizations have largely filled gaps in the delivery of health services.
Arbitrary arrests and indiscriminate firing by the military junta are ongoing across all target areas. In the last week of May 2022, up to 8 people were arbitrarily arrested in Mudon, Mon State. Most of them were between 22 and 26 years old. Detainees are often transferred to Kyaikmayaw Prison. They are tortured during interrogations, and some even face threats to their lives. In Tanintharyi region, and Karen State, the junta deploys the same criminal activities.
In Yebyu, activists and members of political parties who supported the National League for Democracy (NLD), and were involved in the ongoing Spring Revolution faced arbitrary arrests and detainment by the junta, according to families. To date, five civilians have been abducted and detained unlawfully. In association with other charges, now up to five people, including two first year University students have been arrested.

On June 1 2022, Ko Naing Oo, a resident of Set-kone ward, and Ko Soe Than, a resident of Hle-Dan ward, were illegally detained by junta special forces at their residents. They are NLD supporters and former members of the Spring Revolution.
"My son had already studied during his first year. He was also involved as a student in the Civil Disobedience Movement during the first year of the coup. He was arrested on May 30 at the Kanpauk Bridge around 3PM. Those arrested my son and his three friends" said the mother of a detainee.
On June 3, 2022, at around 4:00 PM in Sone Sin Phyar Village, Thayet Chaung Township, Dawei a 14-year-old girl was killed in an artillery attack by the Light Infantry Battalion 404 in Dawei district, according to the reporter network. The victim was a daughter of a military junta member.
She was shot returning from middle school. U Thet Htwe, 30, was also hit while traveling to his farm and died on the spot. According to a local, another two villagers were wounded, and one was in critical condition. The deceased's father was not from the battalions in Dawei Tanintharyi Division but a regiment based in another state town and was currently at the front line.
The deceased young victim was a 14-year-old girl, Ma Leh Leh Win, an eighth-grade student who lived in the junta barracks with her family. Maung Htay Naing Oo (age 18 years old, eighth grade as well) was injured and still unconscious when the junta opened fire on a motorcycle repair shop in Pidaing village, Thayet Chaung Township, Dawei. Five civilian's houses in Chauk Chaung village were damaged. An elderly couple, each aged 65 years were also injured.
Comments