Weekly Update in HURFOM Targeted Areas [Second Week of January 2022]
HURFOM: A weekly update by the Human Rights Foundation of Monland (HURFOM) on the situation on the ground. Summary data includes Mon State, Karen State and Tanintharyi region.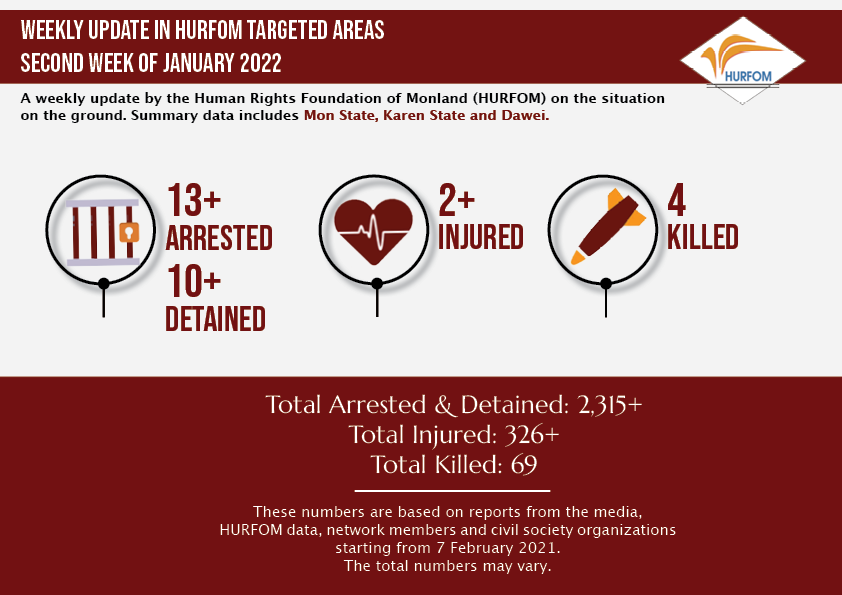 Over the last week, fighting escalated in Karen State. Military junta fighter jets and helicopters launched airstrikes on a village called Ywa-Thit in Kawkareik Township around 2PM on 10 January. The territory is controlled by the Karen National Union (KNU). The damage from these assaults is not yet known as the attacks are ongoing.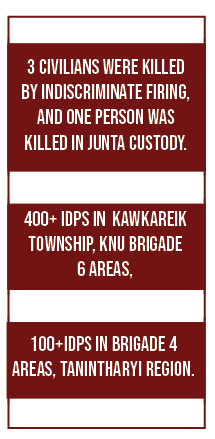 According to sources from the KNU armed wing, the Karen National Liberation Army (KNLA), Brigade 6 forces, landmines which were planted by the junta battalions were found in some areas of Mae Htaw Thale village in Kawkareik Township. A spokesperson told HURFOM: "We just discovered that the Burmese soldiers have planted landmines under the homes, inside the rooms, and yards." "As a result of the landmines, many conflict-affected IDPs have been unable to return safely. The junta battalions also burned down an estimated 65 houses. Due to losing their houses, and the risk of landmines deploying while returning, it is extremely challenging for them to attempt to travel. Between 10 and 12 January, the Junta's LIB #560 and IB #275 joint forces attacked Phlu Lay village and clashed with KNLA Brigade 6 joint forces between Phulu Gyi and Phlu Lay villages in Kawkareik Township. This forced 400 iDPs to flee.

In Dawei, arbitrary arrests are ongoing. According to local sources, a Buddhist monk, Uzin Sukan, age 30, who was abducted on 8 January on Shin-Gyi-Eain Road in Dawei is still missing. Since his unlawful arrest, no information has been heard about him, including his well-being or location. Two men were also arrested in two separate wards in Dawei without any explanation. Ko Thet, a young man, was taken away by the junta while near a local products shop. In an unrelated case, another man was arrested by fully armed soldiers, police armed and General Administration Department without cause.

HURFOM continues to document these cases and follow up closely with families and victims while reiterating calls for an end to the junta's widespread violence.
Comments