Weekly Update in HURFOM Targeted Areas [First Week of January 2022]
HURFOM: A weekly update by the Human Rights Foundation of Monland (HURFOM) on the situation on the ground. Summary data includes Mon State, Karen State and Tanintharyi region. Amid worsening hostilities and clashes between the junta and armed groups, HURFOM documented 700+ IDPs in Kawkareik Township, Karen State & 100+ in Dawei region.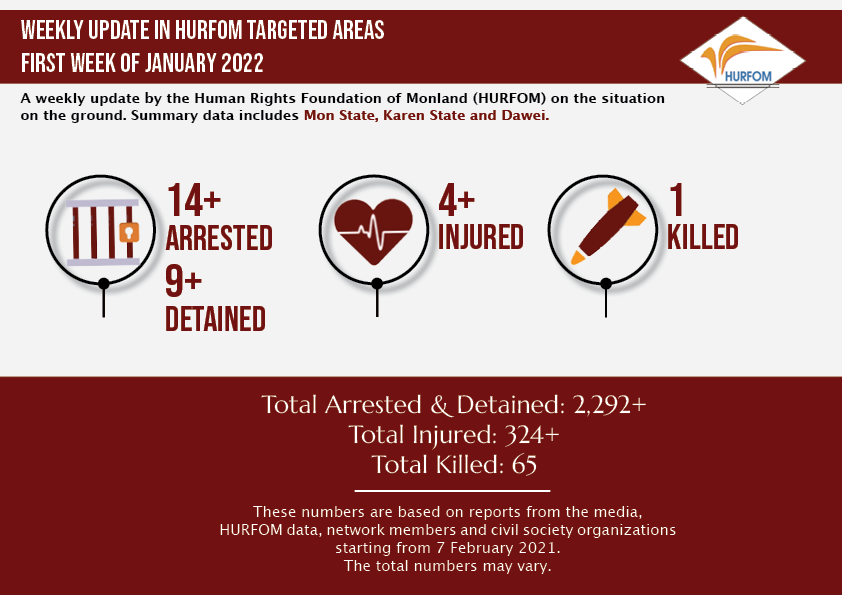 Full Analysis:

The first week of 2022 has been met with more horrifying, and unrelenting violence by the military junta. The regime has ravaged the country with their ongoing assaults, as well as air and ground strikes. Hundreds more continue to be displaced as innocent villagers are forced from their homes to seek safety in the forests. In HURFOM targeted areas alone, there were 700 more internally displaced persons (IDPs) in Kawkareik Township, Karen State and over 100 IDPs in Tanintharyi region. Indiscriminate firing led to the death of at least one civilian, and four seriously injured in Sakawet and Kado Hta villages, on January 9.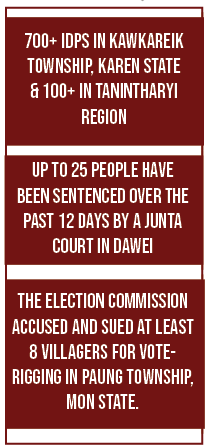 Against the backdrop of fueled displacement are students and activists who continue to be persecuted in more miscarriages of justice. According to the Dawei Political Prisoners Network, up to 25 people have been sentenced over the past 12 days by junta-backed courts. Since February last year, over 120 activists and University students who took part in the Spring Revolution have been unjustly sentenced by the regime.

Arbitrary arrests are still being conducted to provoke fear and isolation. Junta military troops arrested at least seven residents of Alae-Su Village, Taung Pyauk village tract, Thayet Chaung Township. Around 10 AM, about 40 junta soldiers entered the village and abducted them. Among the seven detainees, women were also included. The junta commander accused them of being linked with armed forces, providing shelter and food to civilian groups and individuals.
Five residents of Ra Haung Wa Village, Gaw-Inn Village, San Hlan Village, Long Lone Township, Dawei, were arrested by the junta on the morning of January 8. The detainees were just ordinary villagers. The junta soldiers then raided the home of Than Zaw Oo, a resident of Gaw-Inn village but the troops did not see Than Zaw Oo and instead arrested his twin sister. A resident said that after 2 hours Than Zaw Oo was arrested during a search of his aunt's house in San Hlan village, Long Lone Township, Dawei. The 5 detainees are being held at Laung Lone Police Station.
Comments