Weekly Update in HURFOM Targeted Areas [Last Week of December]
A weekly update by the Human Rights Foundation of Monland (HURFOM) on the situation on the ground. Summary data includes Mon State, Karen State and Dawei Region.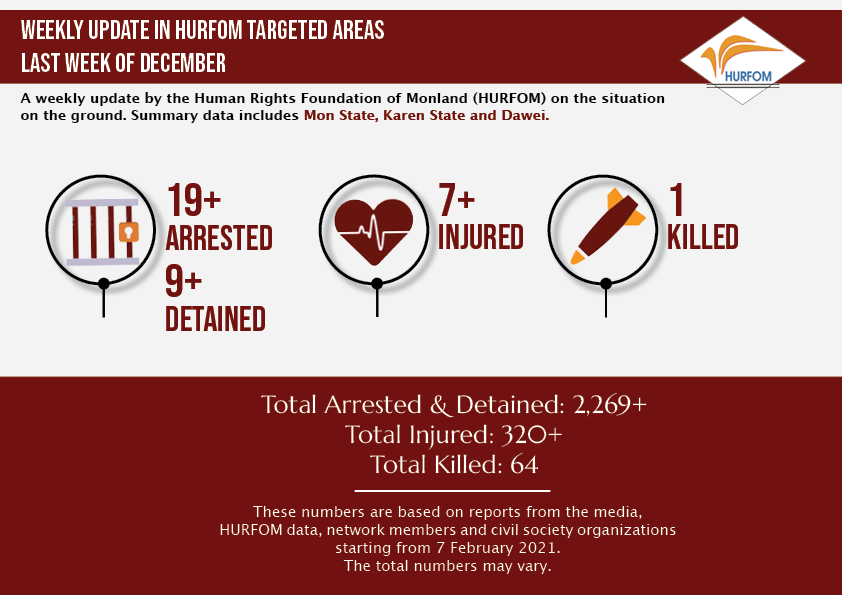 The end of December in HURFOM target areas of Mon State, Karen State and Dawei was met with more violence being deployed by the military junta. Arbitrary arrests, indiscriminate firing and relentless assaults on civilian rights persisted.
At least four local youth were reportedly arrested in Myaing Kalay, Hpa-an, Karen State between 27 and 28 December. Soldiers and police lifted their motorcycles into their trucks. Sources expressed that they felt more women were being targeted by the regime. Another young man was arrested by junta military forces on December 29 at Thida Road in Dawei, Kanyon Ward. According to a local resident, Ko Kyaw Naing was arrested at his home around 3 pm. Two army trucks parked in front of his residence. Troops were mixed in civilian clothes and full uniform. He was abducted by four soldiers and forced to get in one of the trucks after the forces raided his home.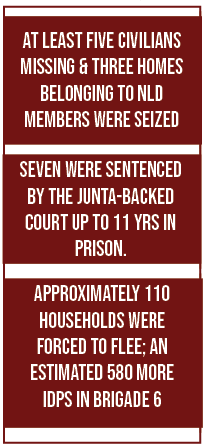 According to family members, five villagers from Sakhangyi village, Long Lone Township, Dawei who have been detained since December 26, have been missing. The missing detainees are Ko Kyaw Nee, a former administrator from the National League for Democracy (NLD) and his four colleagues. The home of U Zaw Zaw Htoo, a member of the State Parliament of Paung Township, Mon State who escaped arrest, was seized by the junta military troops and township General Administration Department on December 22. U Zaw Zaw Htoo, a State Hluttaw representative from Paung Township Constituency No. 2, is currently on the run like other NLD former members. A group of soldiers had broken into his house and destroyed his properties.
Fighting broke out between the junta's battalions and the Karen National Liberation Army (of KNU) Brigade 6 in Dalee village, located between Kyainnseikyi and Tampayar village between 8 and 9 AM on December 31. Consequently, at least 60 households, an estimated 240 local villagers fled to the deeper Brigade No. 6 of the KNU's administration areas.As a new year begins, HURFOM reinstates our calls for an immediate cessation in fighting and for the military junta to be held accountable for their crimes.
Comments