Weekly Update in HURFOM Targeted Areas (Second Week of November)
A weekly update by the Human Rights Foundation of Monland (HURFOM) on the situation on the ground. Summary data includes Mon State, Karen State and Dawei.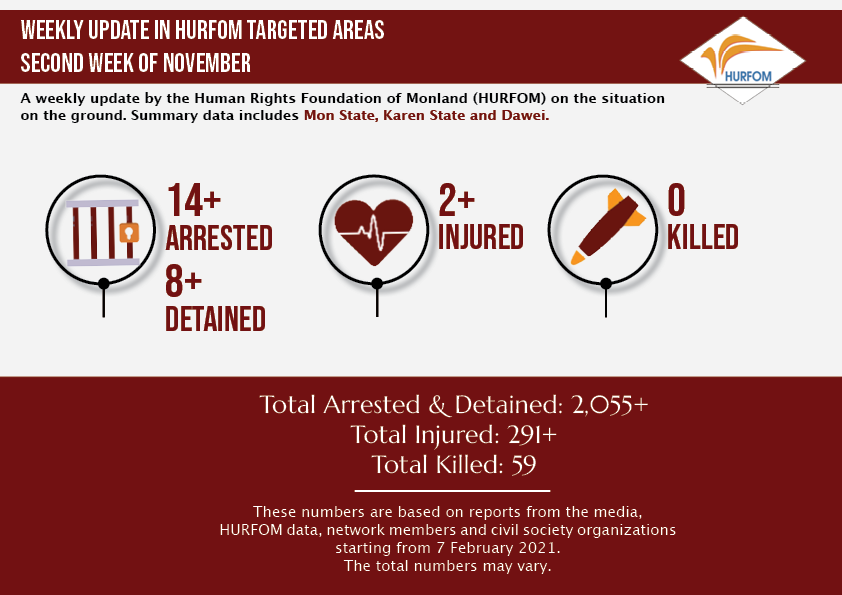 Security in Mon State, Karen State and Dawei has been tightened following many bomb explosions in various townships. A local in Mon State that there is a notorious military checkpoint near Chaung Taung, Ye Township. Anyone on a motorcycle is ordered off of it, and then must push it to the checkpoint. Soldiers are extorting civilians. If travelers have watches, smartphones or any other valuable belongings, they are confiscated.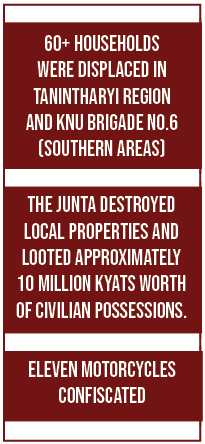 Fundamental rights to privacy and protection are under attack in Burma by the military junta. Since 1 February, civilians have experienced a wide range of sweeping violations as a result of increased surveillance. Consequently, the space for basic human rights and freedoms has been unequivocally censored and suppressed. As documented and analyzed in HURFOM's briefing paper, "We have lost our private sphere," violations of privacy and security since the attempted coup include warrantless intrusions, property confiscation and destruction, arbitrary arrests and abductions.
Family members of those wanted by the junta also continue to be targeted and taken as hostages. Family members of the head of the Dawei Students Union (DSU) were abducted in place of the youth. Daw Thet Thet Htwe and Shwe Yi Moe, the mother and sister of Ma Thiri Moe, and one of the leaders of the DSU were abducted from their home at Kanaing Dar village, Dawei. Ma Thiri Moe fled in February, and the junta court charged her with 505-a of the Penal Code. A volunteer lawyer confirmed that both Daw Thet Thet Htwe and Shwe Yi Moe had been detained in Dawei Police Station.
On November 10, about 11 PM, the junta security troops abducted eleven civilians, including Ko Thiha Soe, a General Strike Leader in Bee Lin township, Mon State. Approximately twenty soldiers came and surrounded his home and arrested him and his six colleagues. On November 11, another five residents were arrested at Ward No.8, Bee Lin Township. They were actively involved in the previous strikes in the area, and some of them are supporters of the Civil Disobedience Movement, as confirmed by a local.
Comments