The Human Rights Foundation of Monalnd Condemns Ongoing Injustices Against Women in Burma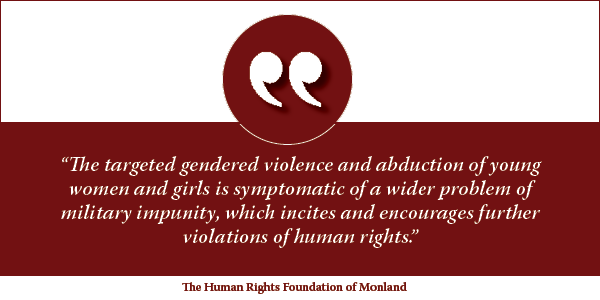 For decades, the Burmese Army has evaded accountability for state-sponsored crimes perpetrated against civilians. Among their most brutal strategies is the ongoing oppression of women and young girls. Since the attempted coup on 1 February, cases of violence and arbitrary arrests against women have been increasing. The Human Rights Foundation of Monland (HURFOM) condemns in the strongest terms the gendered attacks taking place, and calls for an immediate end to military impunity, which has denied victims and their families justice and reparations.
Throughout the month of September, HURFOM witnessed a steady increase in the targeting of young women in Mon State, Karen State and Tanintharyi region by the junta. Girls as young as 16 years old are being unlawfully detained at unknown locations by the regime. The motives of the regime appear to be motivated by control and coercion. Anyone with opposing views of the junta is subject to arrest. On 26 September, security forces arrested five men and three women in Dawei for being supporters of the National League for Democracy (NLD). Since 1 February, NLD officials and senior policy advisers have been detained or forced into hiding due to the junta's baseless allegations that the party committed electoral fraud in their 2020 General Election victory.
Students in particular are regularly abducted for organizing pro-democracy activities and providing moral or monetary support to the various resistance movements which have formed in the midst of the Spring Revolution. On 20 September, three students were arrested on suspicion of giving funds to the local People's Defense Forces in Dawei. One of the young women detained, Soe Me Me Kyaw, attempted to commit suicide by drinking sanitizing solution after being violently interrogated by military intelligence officers. She remains in intensive care, where she is recovering. Another student, Ma Cho Cho Phyo, was arrested when military soldiers arrived at her home in Dawei to detain her brother, who is wanted by the regime. When they couldn't find him, she was taken instead. The junta's continued use of targeting family members of dissidents has not spared anyone, including young children.
Women human rights defenders are also being hunted by the junta. Within the last week, Ma Pyone Tint, a member of the Dawei Women's Union, was sentenced to three years at a military court inside the prison and Nilar Aye, another long-time activist, was abducted with her 60-year-old mother. With no word from her, or any information provided on her location, her close friends are fearful of their condition.
Of additional consequence is the hardships experienced by ethnic communities living in conflict zones. Expanded military operations since the coup threaten civilian safety and security. Women face increased risks of being targeted by the junta. Forced unpaid labor and extortion by military bases in local villages has only heightened already existing fears and anxieties. In Bee Lin Township, Mon State, over 300 villagers from Kon Ywa, Pyin-Ma-Pin-Seik, Kya-Thaung-Seik, and Kyo-Waing were forced to porter for the regime, including between 30 to 40 women.
The targeted gendered violence and abduction of young women and girls is symptomatic of a wider problem of military impunity, which incites and encourages further violations of human rights. Further, the junta has created systems which shield soldiers from accountability and embodies a deeply flawed entity that lacks compassion and moral consciousness of the harm they are willingly perpetrating. They have also long denied and dismissed the lived experiences and trauma of survivors who have been violated by the Army.
Women in Burma have faced decades of struggles for equality, which the military has used to their advantage. Perceived as the weaker sex through the 2008 military drafted Constitution, women are disadvantaged with an unequal set of rights and protections in several of Burma's legal frameworks. State institutions have largely failed them. And yet – women remain resilient and emboldened to condemn the junta's attacks against themselves and their communities.
HURFOM is inspired by the determination and courage of women and young leaders in Burma. We align ourselves with the spirit of women human rights defenders and echo calls for an immediate end to state sponsored violence which targets women and girls. We call for accountability to safeguard women's rights. All political prisoners must be unconditionally released and justice must be granted to those deprived of their rights to legal counsel and protection in military custody.
Media Contact
Nai Aue Mon, HURFOM Program Director
Email: info@rehmonnya.org
Signal: +66 86 167 9741

HURFOM was founded by exiled pro-democracy students from the 1988 uprisings, recent activists and Mon community leaders and youth. Its primary objective is the restoration of democracy, human rights and genuine peace in Burma. HURFOM is a non-profit organization, and all its members are volunteers with a shared vision for peace in the country.
Comments