Weekly update on situation in Karen, Mon & Dawei since the coup (Fourth Week of September 2021)
HURFOM: Over the last week, HURFOM has observed women and young in particular are being increasingly targeted for their anti-coup activities. Ma Nilar Aye, a local human rights activist, and her 60-year-old mother were abducted at midnight by Junta Navy command in Ohn Pin Kwin Village, Yebyu, Dawei Region on 24 September. Friends and family who have tried to contact them say they fear they have 'disappeared': "At first, we thought they were detained at Kanbauk Police Station. But they are not there, which means they are missing. Our prayers are with her."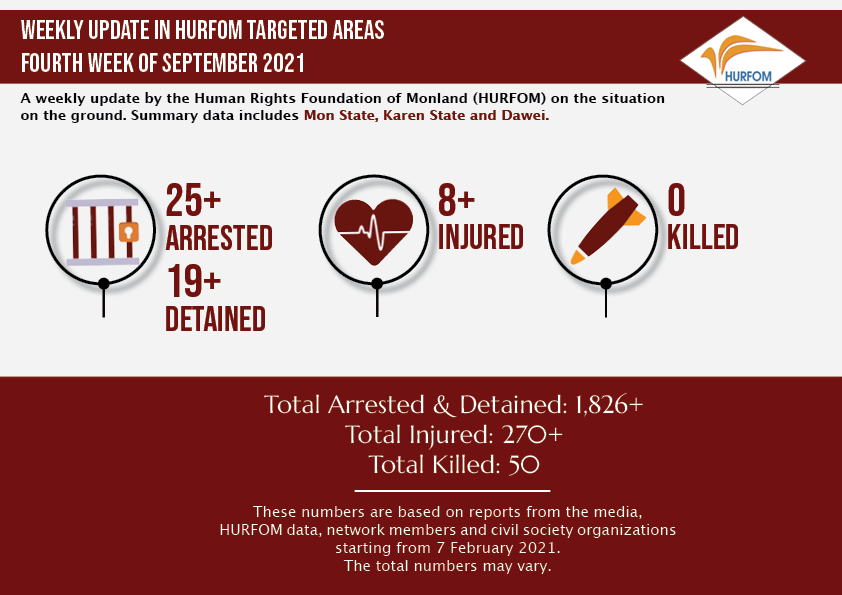 In addition, three young students from Dawei University were reportedly abducted by the Junta Security Forces from their homes on 20 September. They were accused of supporting the People's Defence Forces in Dawei. The Dawei University Student Union confirmed the arrests of Shar Pyae Kin, Soe Pyae Aung, and Soe Me Me Kyaw and trying their best to defend the cases. While in junta custody, Soe Me Me Kyaw attempted to commit suicide by drinking alcohol sanitizer hand spray after being tortured. She is now receiving medical treatment at in an intensive care unit in a military hospital in Dawei.
Ma Pyone Tint, another young woman from the Dawei Women's Union was sentenced to three years in prison by the junta after being detained since May for her pro-democracy activities.
Junta security forces based in Phaung-Sein toll gate arrested 12 young people on 20 September: "Most of the detained people are between the ages of 19 and 21. They were arrested when the security forces checked their phones and Facebook timelines.
Innocent civilians continue to be arbitrarily arrested and detained by junta security troops in Palaw Township, Myeik, Tanintharyi Region. It was reported that an additional six Pala residents have been arrested since September 18th. Included is a 19-year-old man along with four others who were abducted by the junta on accusations of being affiliated with local resistance groups.
"They're hand-to-mouth day laborers, just ordinary local people," a friend of a detained man confirmed.
Comments