Weekly Update in HURFOM Targeted Areas (Second Week of September 2021)
HURFOM, Mawlamyine: A weekly update by the Human Rights Foundation of Monland (HURFOM) on the situation on the ground. Summary data includes Mon State, Karen State, and Northern Tanintharyi Region.
The numbers of those arrested & detained more than doubled in HURFOM areas in the last week. Violence by the junta has increased as young ppl are targeted.
Full Analysis: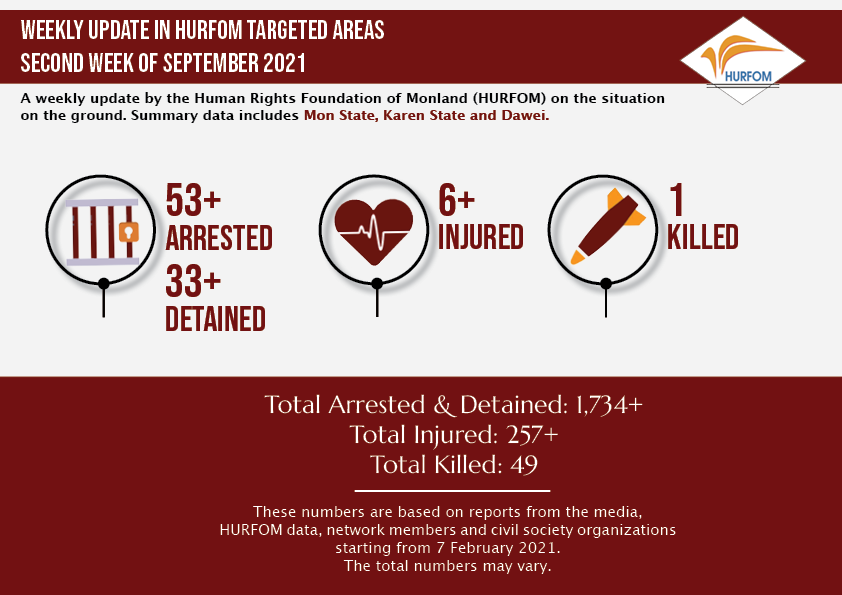 Numbers in HURFOM areas of arrest and detainment more than doubled since last week. Eight civilians were arrested in Mon State, eleven in Karen and thirty-four from Dawei region. Of those injured, most of the victims were from Dawei and Mawlamyine. A pregnant woman, and mother of a young child was shot by the junta while coming home with her husband, who was also shot and severely injured in Ka-Dike village, Paung township on 1 September. Property also continued to be looted by state-backed forces under the unlawful 'stop and frisk' tactics. Some civilians were forced to pay fines to have their belongings returned.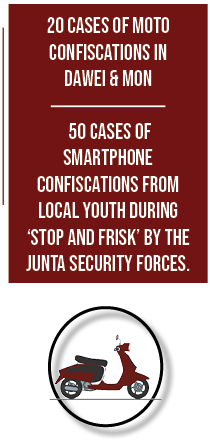 Door to door inspections of suspected People's Defense Forces (PDF) continue in Dawei region and in Hpa-an, Karen State. Three young people who the Junta forces suspected as the network members of PDF were abducted, according to one of the victims' neighbors reported. National League for Democracy member houses were also targeted.
On 5 September, the Light Infantry Battalion No. 583, operating under the Military Operation Management Command No. 19, arrested a villager from Wae Bai village for unknown reasons. About 50 Junta troops with full ammunition entered into the village (Wae Bai, Eastern Ye, the New Mon State Party controlled areas) at 2 PM local time and arrested a 44-year-old man. Witnesses suspect that the junta was on alert for conflict as they entered NMSP controlled areas without permission.
Even aid workers are being targeted. Four young men volunteering with their village to provide health and social support were abducted by Light Infantry Battalion No. 401 army soldiers. The village is known as, Maw-Shae-Gone Village, Thayet Chaung Township, Dawei. 2 Army Trucks carried full of soldiers came and searched door-to-door. Then they arrested four men and brought them to unknown places, according to local sources.
In most cities in Mon State, the junta deployed more troops to tighten up security after the National Unity Government declared war on them. 'We face difficulties traveling. They have full power to stop and frisk, to search our handphones, and to rob us,' said a young man who had his phone confiscated.
The recent armed clashes between Junta troops and PDF have forced an estimated 1,000 civilians into the jungle, according to HURFOM network members in Palaw Township, southern Tanintharyi Region. After the military began launching indiscriminate attacks and shelling on Pein-Nae-Taung, Sar-Khae and Du-Yin-Pin-Yaung villages, everyone fled to the jungle. Some villagers ran with only the clothes on their back. "Targeting civilians is one of the oldest tactics of the military, especially when they have conflicts with Karen armed forces, or their opponents. The locals experienced these situations a lot, and they know that the military does not have humanity. The emergency relief and humanitarian aid providers should come and immediately respond to these people." a former Karen National Union Brigade 4 commander said. The majority of civilians from these three villages are ethnic Karen.
Meanwhile, the Southeast Command, based in Mawlamyine, deployed many troops to tighten up the security checks in Mon and Karen State. Many of those informing on civilians are plain clothed police who are conducting more surveillance of civilians.

Comments