The Human Rights Foundation of Monland Calls on Ethnic Armed Organisations to Provide Support to Civilians Fleeing Injustices
HURFOM: 22 February 2021: The Human Rights Foundation of Monland (HURFOM) is alarmed at the increasing rate of violence against civilians, including human rights defenders, activists and journalists following the military coup on 1 February 2021. Over the weekend, at least two people were killed in Mandalay in a brutal crackdown. Security forces used lethal ammunition, including live rounds and rubber bullets in their response to peaceful protesters as well as marbles, stones, nuts and screws welded into small harmful spiked objects. As the situation continues to deteriorate and the rights of people on the ground are increasingly at risk, HURFOM calls on ethnic armed organisations (EAOs) to use their authority in their controlled areas to protect dissidents in Burmese cities who have been forced to flee to the borderlands.
During this time of unrest in the country, human rights defenders are among those being targeted under the military government and are subsequently seeking protection. There is an opportunity for all stakeholders to offer their support in different ways. HURFOM calls on EAOs across the country to provide safe housing, food and materials for those at risk. By sheltering the many who have been required to leave their homes for their own safety, EAOs can show their solidarity to the people of Burma. Currently, those that have been forced to abandon their families are living in areas that are unfamiliar to many of them. As opponents of injustice, EAOs have an opportunity to protect and defend the country with the resources it is equipped with.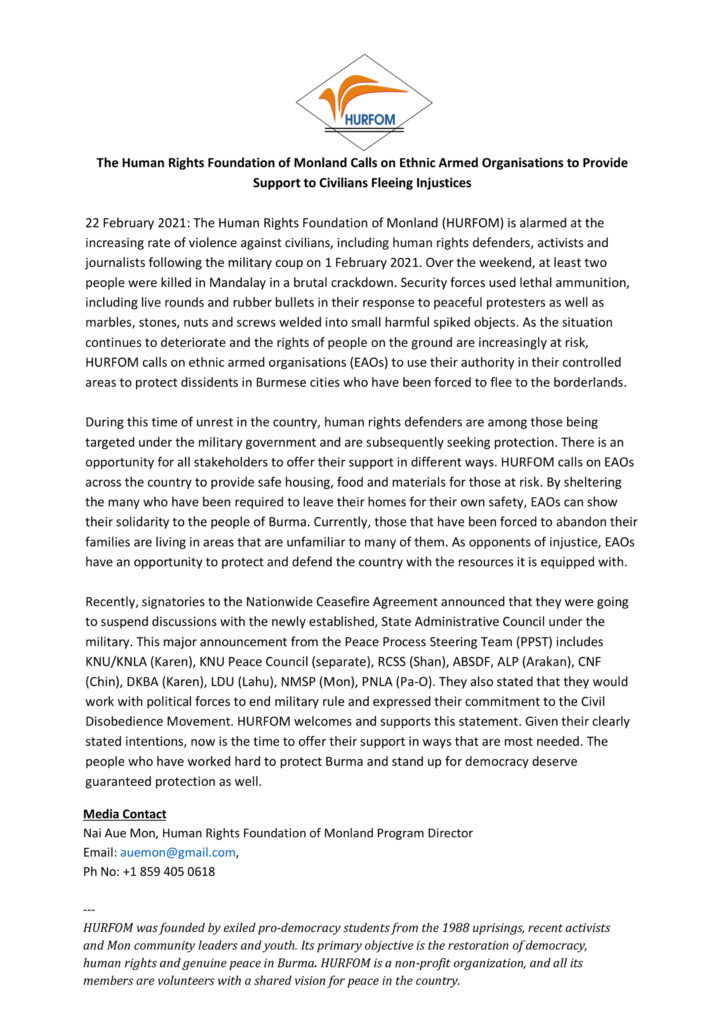 Recently, signatories to the Nationwide Ceasefire Agreement announced that they were going to suspend discussions with the newly established, State Administrative Council under the military. This major announcement from the Peace Process Steering Team (PPST) includes KNU/KNLA (Karen), KNU Peace Council (separate), RCSS (Shan), ABSDF, ALP (Arakan), CNF (Chin), DKBA (Karen), LDU (Lahu), NMSP (Mon), PNLA (Pa-O). They also stated that they would work with political forces to end military rule and expressed their commitment to the Civil Disobedience Movement. HURFOM welcomes and supports this statement. Given their clearly stated intentions, now is the time to offer their support in ways that are most needed. The people who have worked hard to protect Burma and stand up for democracy deserve guaranteed protection as well.
Media Contact
Nai Aue Mon, Human Rights Foundation of Monland Program Director
Email: auemon@gmail.com,
Ph No: +1 859 405 0618
---
HURFOM was founded by exiled pro-democracy students from the 1988 uprisings, recent activists and Mon community leaders and youth. Its primary objective is the restoration of democracy, human rights and genuine peace in Burma. HURFOM is a non-profit organization, and all its members are volunteers with a shared vision for peace in the country.
Comments