Military council amends laws to oppress the CDM
HURFOM: As the domestic and international communities voice  growing criticism of the military coup, the military led State Administration Council has responded by amending the Burmese Criminal Code  in order to suppress further criticism.
On February 14, 2021, the Chair of the military council, Senior General Min Aung Hlaing, announced an amendment to Burmese Criminal Code sections related to "High Treason", and "Sabotage or hindering the performance of the Defence Services of the Union".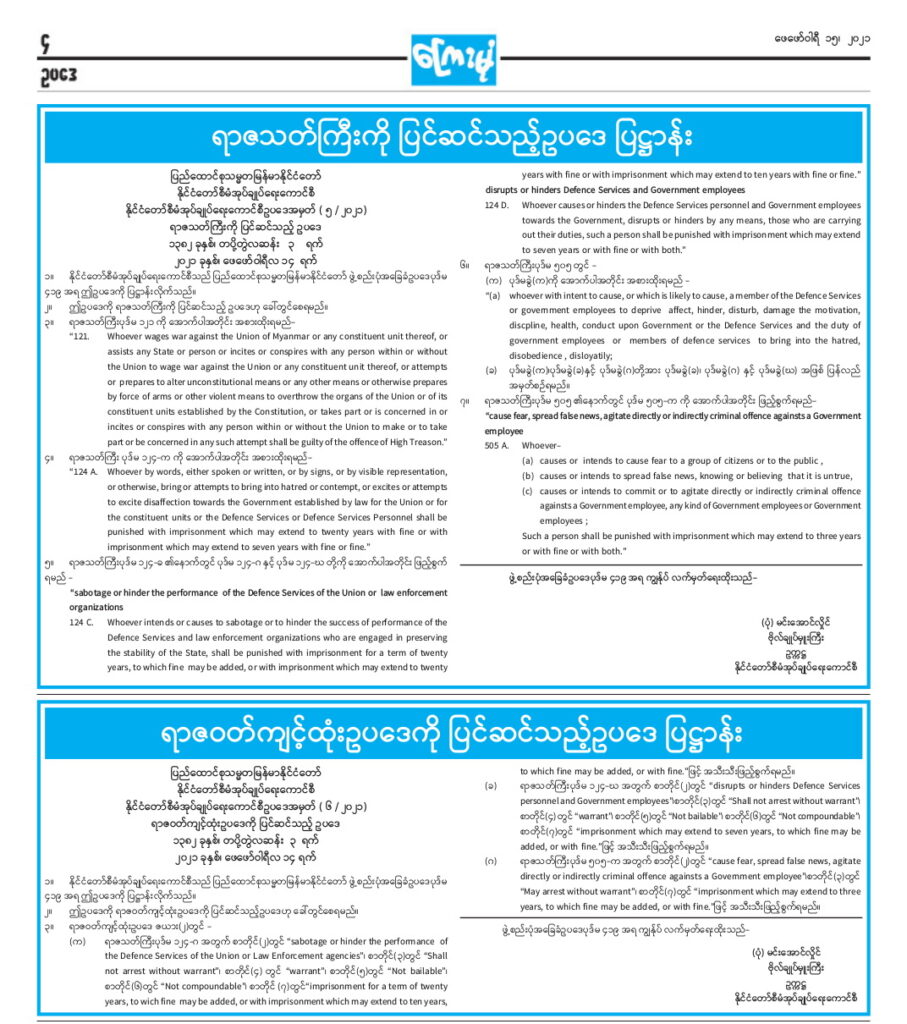 The original text of section #121 of the Code described "guilt of the offence of High Treason to mean waging war against the Union by force of arms of other violent means". The military council amended this text by adding, "by words, either spoken or written, or by signs, or by visible representation, or otherwise, bring or attempt to bring into hatred or contempt, or incite or attempt to incite disaffection toward the Government". Such actions are now considered High Treason and can be punished with twenty years imprisonment and a fine.
The political analysts said the amendment targets the civil disobedience movement and the military council is accusing those who have supported and are involved in the movement with "high treason".
They also amended Section #505 by adding the text to "cause fear, spread false news, agitate directly or indirectly, criminal offences against a Government employee" may lead to "imprisonment which may extend to three years, to which a fine may be added, or face just a fine."
This amendment targets activists urging government employees to participate in strike actions.
Since the coup, the military council has amended, added, abolished and rewritten laws to crack down on protests and criticism. On February 13, they amended the village/ward GAD law and the law protecting the freedom and the security of the citizens.
On February 14 the parliamentary Committee Representing Pyidaungsu Hluttaw (CRPH) which is composed of political representatives that won seats in the 2020 election announced, the military council had no mandate to approve such a law, and the people are not bound to follow laws they have not approved.
Comments