Military revokes freedom of security protections two weeks after coup
HURFOM: On February 13, 2021 just two weeks after the coup, the military junta revoked freedom of security of Burma citizens,  by an order of the Chair of the State Administration Council. The Council is a creation of the Tatmadaw.
The Council revoked sections #5, #7, and #8 of "the Law Protecting the Privacy and Security of Citizens". The law was first approved by the Union Parliament on March 8, 2017 during the NLD's first term in government.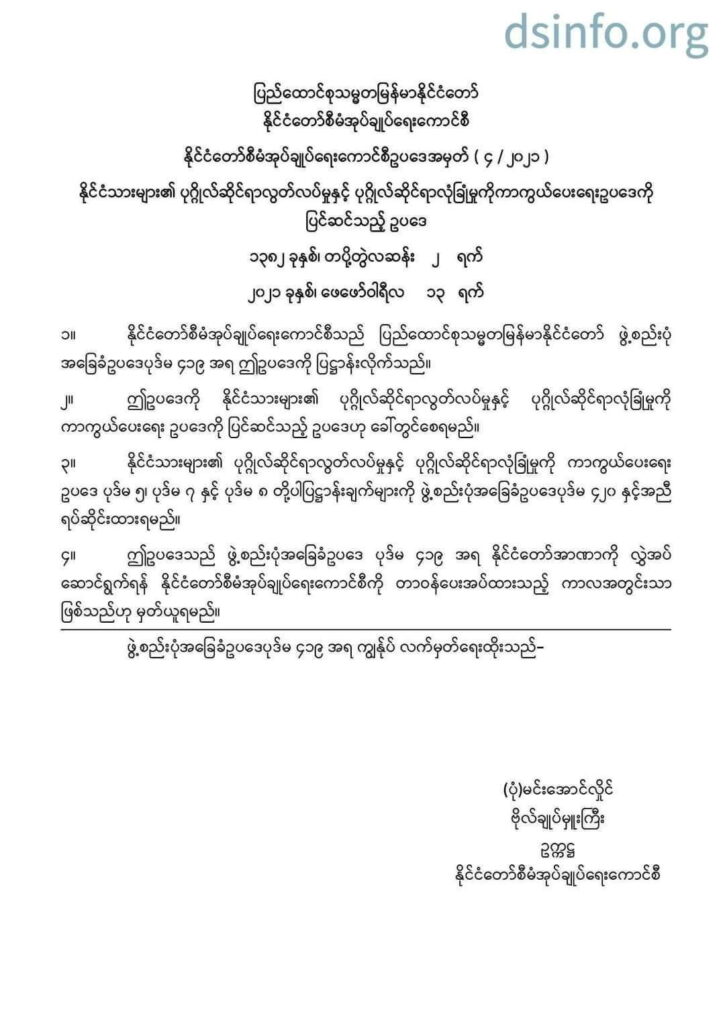 Removal of these sections now allows State authorities (military or police) to search a house without the presence of witnesses, and to arrest anyone without a judicial warrant. The changes also permit seizure of belongings and enables authorities to conduct surveillance (to spy) on anyone unconditionally.
Authorities can intercept or disturb any citizen's telecommunications, and can require telecommunication operators to hand over detailed electronic data (user identity, location, texts) of their users.
The security forces can also, now detain anyone for more than 24 hours without permission from a court.
Soldiers and police have been invading and searching residents homes, and arresting individuals without a stated cause. Based on the individuals that have been targeted to date, such as doctors on strike, or those perceived to be organizing civil disobedience protests, these actions seemed to be designed to intimidate and spread fear.
The military refutes the claim they have seized power, arguing instead that the 2008 Constitution, which was written by the military, has enabled them to declare a state of emergency. The basis for the state of emergency rests on unproven allegations that the 2020 election results were not free and fair.
However, the Union Election Commission as well as election observers concluded the election was peaceful, orderly and reflected the sentiments of the people. In addition, as of February 9th nearly 50 member and observer States of the United Nations Human Rights Council expressed concerns with the human rights implications and ongoing political crisis that has developed since February 1.
Comments