NMSP urges MUP to reconsider their decision to join State Administrative Council
HURFOM: Following the February 1 coup, the military junta proposed the Mon Unity Party (MUP) join a State Administrative Council that they had created to govern. The Council is led by the Commander in Chief,  Senior General Min Aung Hlaing.
In a February 6th Central Executive Committee meeting of the MUP, a decision was made to accept the proposal.
On February 12, 2021, the New Mon State Party (NMSP) released a statement urging the MUP to reconsider their decision, saying it serves to destroy unity amongst Mon People and the party.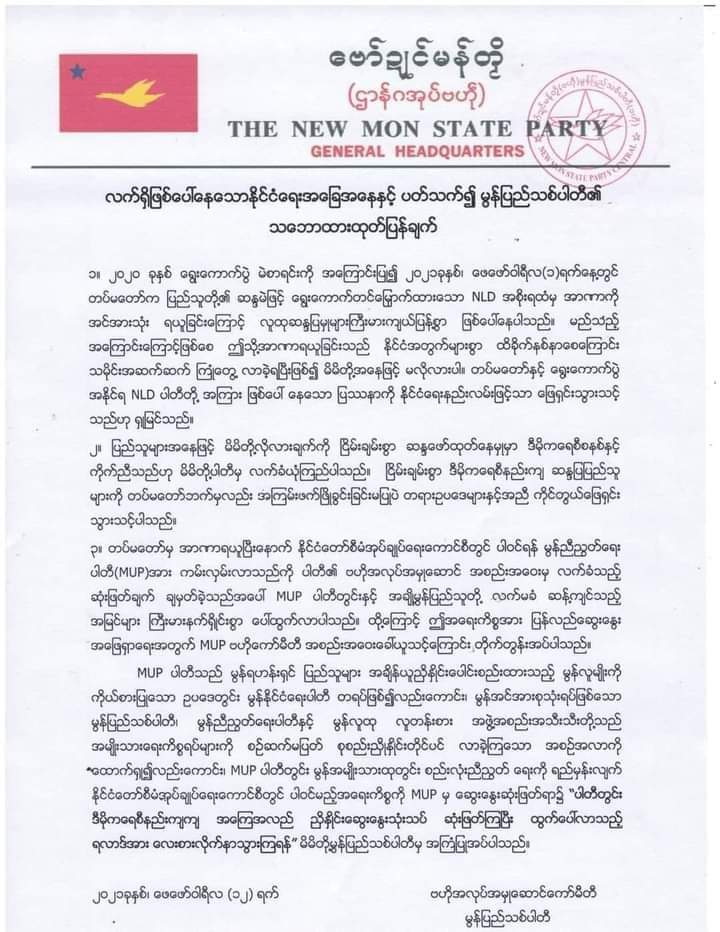 Nai San Tin, a Joint Secretary II of the MUP, in response to media questions about this controversy said, "We've been discussing this issue, but we haven't met and discussed it with the NMSP, [for now] we've nothing to say about their statement."
The MUP planned a CEC meeting for February 12 to again discuss their decision but that meeting was canceled.
Nai Layi Tama, spokesperson for the MUP explained, "We had already decided to hold a meeting. But the military government imposed the Criminal Procedure Code Section 144 (which prohibits the assembly of five or more people in an area) so we have a difficulty. Also, there are protests against the military coups in Mawlamyine so there are traffic jams. That's why we've decided to postpone the meeting."
Despite reports of significant criticism from Mon people, most members of the MUP appear to have accepted the CEC decision.
"When visiting the Township party office and explaining our decision, we've experienced no objection from the party members," remarked Nai Layi Tama.
The MUP CEC still plans to hold a meeting to further discuss the issue but a date and venue have not been confirmed.
The Arakan National Party has agreed for one senior party member to join the State Administrative Council. In response, 47 Arakan community based and civil society organizations released a statement demanding the ANP reconsider their action and not accept the military proposal.
Comments