Police member joins anti coup protest in Mawlamyine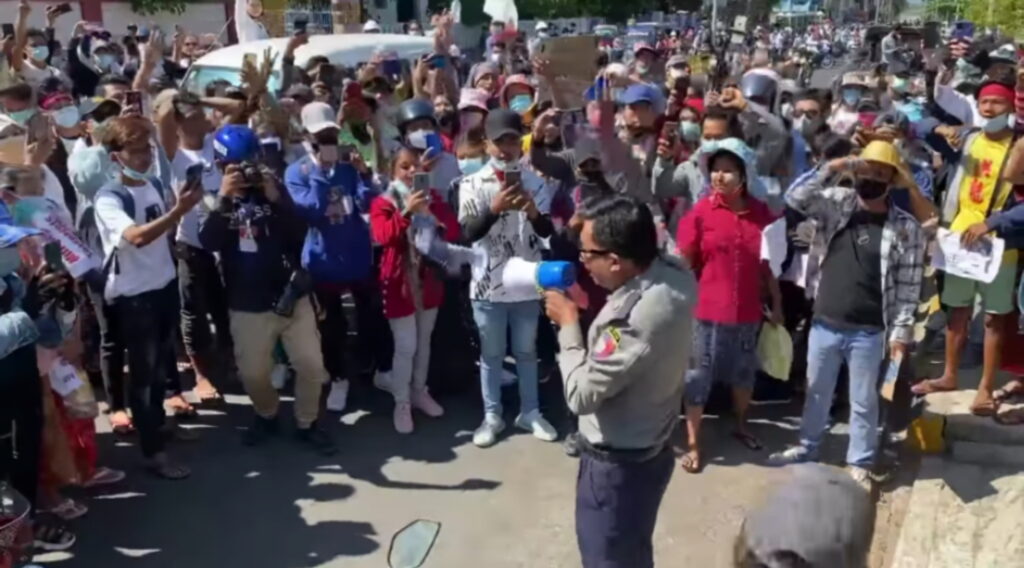 HURFOM: Since the military seized power on February 1, 2021, tens thousands of people have responded in protest marching in the streets across Burma.
In opposition to the military junta, the people have come together in what is being called a "Civil Disobedience Movement". Many government staff from many different departments have joined the campaign. The Myanmar Times reported that members from the Forestry department have joined in protests defiance of the military's ban on public assembly. Social media posts show some State government workers have organized, and presented water bottles to protestors.
On February 10, 2021, a police officer from the Myanmar Police Force joined protesters in Mawlamyine.
"I have family but I've already left them. I'm ready to sacrifice everything," said the police officer to the protesters.
On the same day, 40 members from the Loikaw police force, located in Karenni State, joined in the protests.
The police officer who was involved in the Mawlamyine protest shouted "…destroy the dictatorship" and "Police for the people" and the protesters cheered him on.
There have also been cases of police responding to peaceful protestors with extreme violence and deadly force.
On February 9, Nay Pyi Taw police violently cracked down on peaceful protesters, using water cannons, rubber bullets and live ammunition, leaving at least 20 people injured, including a 20-year-old woman.
According to BBC Burmese, who spoke to an unnamed medical officer from a Nay Pyi Taw hospital, the young woman suffered a serious head injury, and was moved to intensive care. Another demonstrator had chest injuries.
Comments