MUP seeks common ground before accepting NLD request to form a Democratic Federal Union
HURFOM: The Joint Secretary of the Mon Unity Party, Nai Layi Tama has responded to the National League for Democracy (NLD), indicating they can not alone form a "National Unity Government."
In response to the NLD's request, following the November general election, the MUP believes there must be a common ground between the ruling NLD and the ethnic parties.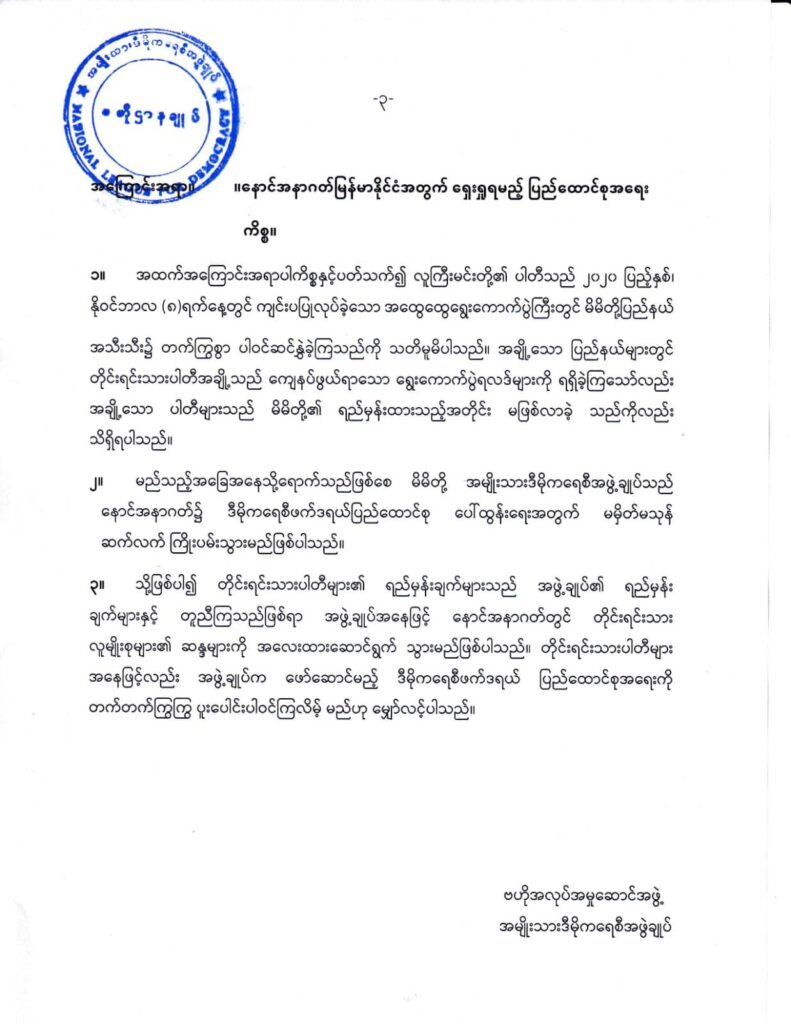 On November 12, just four days after the 2020 election, the NLD despite a landslide victory invited ethnic political parties to unite and cooperate with them to form a "Democratic Federal Union".
"If the NLD wants to form the "National Unity Government" in accordance with their statement, there must be a discussion with the (ethnic) political parties who want to join them. The NLD alone can't create the "National Unity Government"," said Nai Layi Tama.
On December 13, the NLD selected three members – Chief Minister Dr Aung Moe Nyo, Chief Minister Daw Nan Khin Htwe Myint and Member of Parliament U In Htone Kha Naw Sam to start a dialogue with the ethnic political parties who are interested in the NLD invitation.
"First, we must discuss our "common ground". Then, we must do it in accordance with our agreement. So the process can go smoothly. Only after achieving the common ground, our party will consider contributing to the new government," explained Nai Layi Tama.
The NLD invited 48 ethnic political parties and promised in the statement that they would unconditionally try their best to create a "Democratic Federal Union" that respects the voices of the ethnic minorities.
NLD spokesperson, Dr Myo Nyunt indicated they would meet with ethnic parties first to listen to their voices, and the new government would be formed only after such discussions.
Comments