Domestic violence increasing: Public engagement remains poor
HURFOM: The number of incidents of domestic violence has been increasing in Mon State, but the public  is not showing interest in the 16 Days of Activism Against Gender-Based Violence campaign.
The Mon Women's Organization (MWO) organized the state-based campaign running from November 25 to December 10, 2020.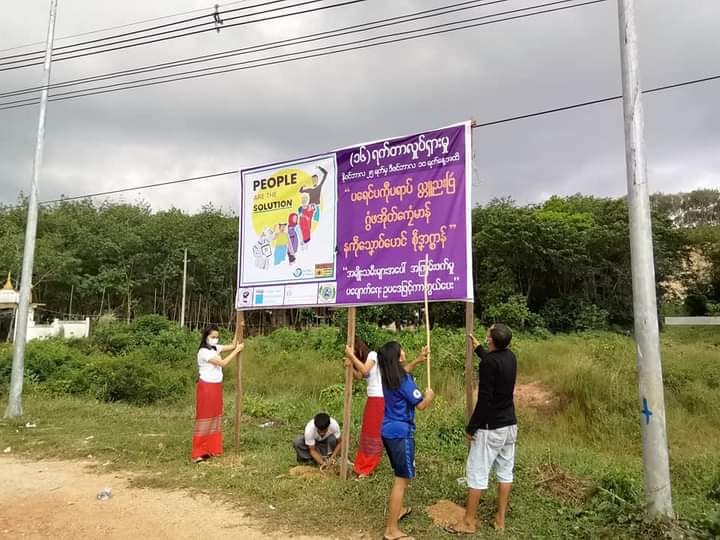 The 16 Days of Activism Against Gender-Based Violence is a global campgin designed to challenge violence against women and girls.
On November 25, members from the MWO, Mon Cetana Development Foundation, Mon Women Network (MWN), Jeepyah Civil Society Development Organization (JCSDO) and other civil society organizations wore shirts with the statement "Gender-based violence must end." Participants wore the shirts while cycling in Mawlamyine.
"Only MWO and its partners joined the 16 Days of Activism. We need more participation. I think most organizations aren't interested in this activity. There has been a poor response from the public," said Mi Pone Nyan Chai, a CEO member with MWO.
Some organizers think the poor levels of public attention to the campaign is not related to Covid-19.
"I think it isn't related to Covid-19. (Even if you have to stay at home due to Covid-19,) you can write a supportive post on social media (if you are interested in the campaign). Now, just a few people have shown their support to the campaign on social media. And we always say that everyone is welcomed to our campaign," said Mi Pone Nyan Chai.
Others have noted the campaign has faced challenges because of Covid-19, organizers were unable to mobilize people and had difficulties in cooperating with other network organizations.
While women's organizations urge both men and women to cooperate to end gender-based violence, it has been mostly women who have been active in the campaign.
"Everyone should contribute to this activity to better understand gender issues. But we can't mobilize the public due to the Covid-19 now. This is the biggest challenge," said a young man who has been an active supporter of the campaign.
Comments