HURFOM Marks the 72nd International Human Rights Day
Today, the Human Rights Foundation of Monland (HURFOM) marks the 72nd International Human Rights, during a time when so many individuals around the world are struggling to cope with the global pandemic and its consequences.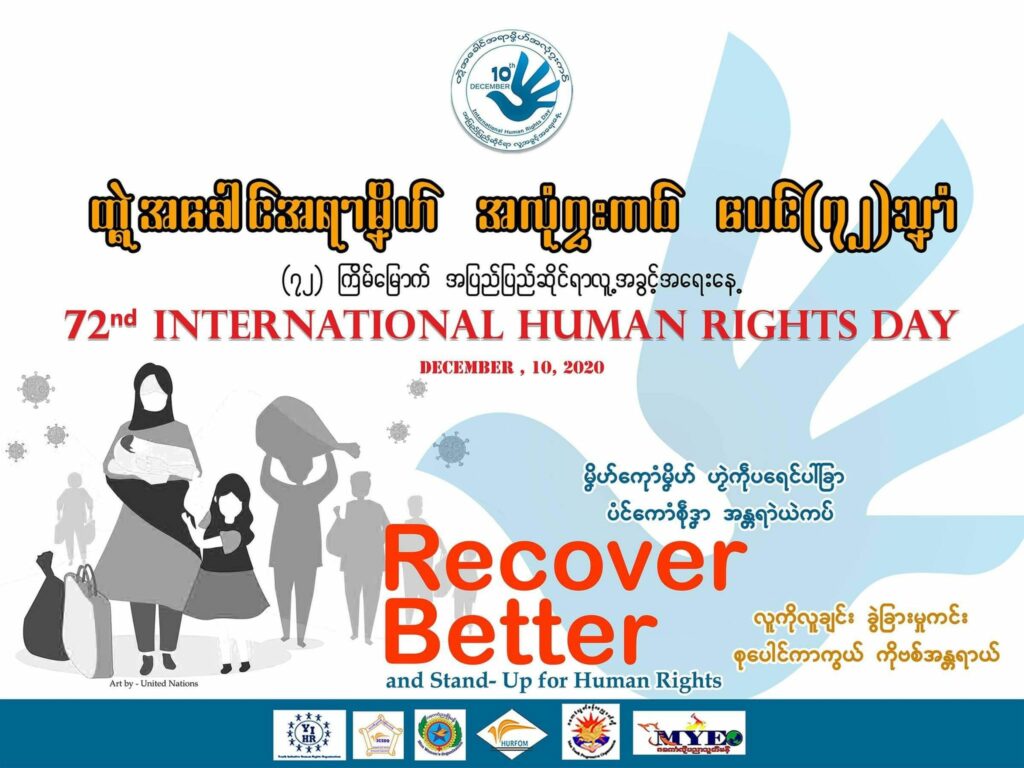 Throughout the past year, many individuals in Burma/Myanmar have lost their jobs, seen their businesses go under, and other sources of income cease to provide them with a livelihood. Moreover, armed conflict in the country has continued, with the vast majority of the widespread human rights abuses being perpetrated by State security forces, and to a lesser extent Ethnic Armed Organizations (EAOs), and human rights organizations, including HURFOM, have documented thousands of cases of human rights violations against innocent civilians such as extrajudicial killings, inhumane torture, arbitrary arrest and detention, sexual violence, forced displacement, and ethnic and religious discrimination.
Although the Burma/Myanmar government has extended several ceasefires to various EAOs, the Burma Army continues to repeatedly refuse calls to offer a nationwide ceasefire in the context of the COVID-19 pandemic to the Arakan Army. Additionally, while the conflict continues to rage in Arakan State, violence also continues to systematically target civilians in northern Shan, Chin, Kachin, and Karen states.

Critically, the restriction of humanitarian access by the Burma/Myanmar has continued across the country, particularly in Rakhine and Kachin states, and extensive violations are ongoing. Impunity persists for past and current human rights violations by State forces, and the NLD-led government continues to dismiss allegations of rights violations and ignore calls for investigations and accountability.
The government continues to use a range of oppressive laws to restrict the rights to freedom of expression, peaceful assembly, and association and has imprisoned civilians for peacefully exercising such rights. Human rights defenders, journalists, and lawyers who speak out about human rights conditions around the country still face intimidation, surveillance, and attacks. Women and children are still subject to violence and need better protection under domestic legislation and through rule of law.
While the COVID-19 lockdowns and emergency measures that have been taken by some local governments to address the pandemic may have helped mitigate the spread of the virus, they have also exposed and exacerbated human rights violations such as abusive law enforcement practices, unlawful detention, arbitrary arrests, movement restrictions, and silencing of human rights defenders and humanitarians. Moreover, many of the most vulnerable citizens who live in EAO-controlled areas or remote communities are being left behind, without access to humanitarian aid and government support.
To recover better means strengthening our commitment to human rights and addressing human rights violations, respecting human rights for all and creating protection systems, and strengthening and creating better institutions.
We are all in this together, and we must remember the way forward is through justice, inclusivity, and equality.
HURFOM urges:
The current Burma/Myanmar government, who will be in power for the next five years, to ensure the protection of all people in the country.
The Burma army and EAOs to cease all armed conflicts, respect human rights, and to hold their members accountable for human rights violations and abuses committed.
The Union and State governments to address the unequal and insufficient support of aid and healthcare for COVID-19 to vulnerable populations and to meet ongoing needs of all populations. To act to ensure everyone's right to life and health are in line with international human rights law by ensuring healthcare provision and humanitarian and health education are all-inclusive in all ethnic minority areas.
Comments