Interest in the election and voters list accuracy is limited
HURFOM: With the public release of the initial 2020 voters list, interest amongst voters appears to be low.  Only 4,000 voters have come to check the list in the last 4 days.
There are 208,000 eligible voters in Ye Township and less than 2% have come out to verify if their names are on the list. The initial list is open for the electorate to review from July 25 to August 20 in order to determine if there are errors.
The collection and compilation of voter lists can result in some voters having wrong names, or wrong NRC numbers, which can result in their being excluded from the list.
"Those who have the wrong name and/or wrong NRC number must send a complaint with forms and there will be a correction. We've filed a report (to the UEC – Union Election Commission) for those who have been excluded from the list and those who don't have NRC. At the moment, the members of the particular election sub-commission are very busy with correcting and amending the information of the voters," said an official of a village/ward election sub-commission.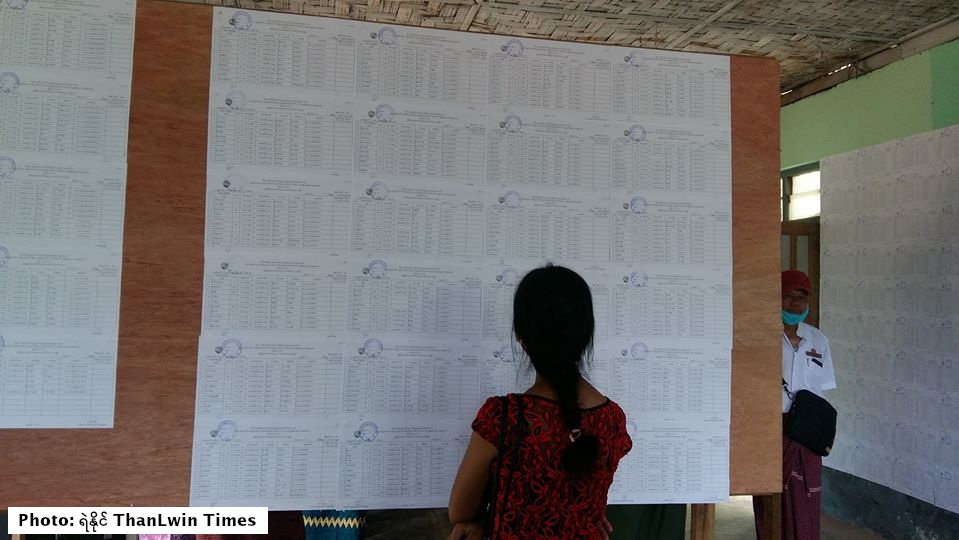 Most of the voters who have been excluded from the voter list are those who have changed their address.
"Recently they lived in another ward and now they moved to this one so their household list still remains in their former ward. So their names have been excluded from the list (of the new ward). But if they request they want to vote in their new ward, we will do what they want," said U Tun Myint Oo, the Chair of Election Sub-commission in Yan Myo Aung Ward, Ye Town.
The village/ward Administrators have been delivering election education brochures, putting up posters and providing election education with loudspeakers in their villages. Despite these efforts, the numbers who turned out to check the list have remained small.
U Tun Myint Oo said, "In Yan Myo Aung Ward, about 50 voters came to check their list in a single day. Other wards will have the same number. As the voter lists are based on the household list, it's enough if only one member of each household comes to check the list. For example, 300 people who checked the voter list can cover about 700 houses."
According to some people, some voters have not had time to check their vote list as they have to struggle for their livelihood, and some intentionally ignore the voter list as they have little interest in politics.
Comments