Kan Bouk locals complain after Delco silt lake accident
On September 23, a silt lake connected to a mining factory in Kan Bouk, Yebyu Township, Tenasserim Division, owned by Chinese mining company Delco, burst its banks, killing a 12-year-old boy and flooding nearby houses.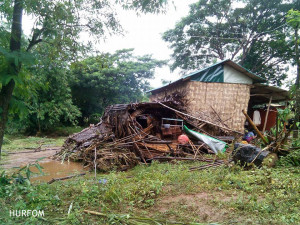 Delco created the silt lake to store the mud, stone and dust produced as a waste product of their Kan Bouk mining factory. When the lake burst its banks it destroyed 40 houses, leaving 300 people homeless and a 12-year-old boy dead. Residents affected by the flood lived in Mya Thidar, Khine Thazin and Ma Gin quarters of Kan Bout.
According to a local from Ma Gin quarter, Delco have built new houses for 19 families whose homes are now floating on the lake. However, locals expressed worries that the replacement houses are small and poorly built, and have issued complaints that the company did not replace household possessions lost in the flooding.
One local explained, "It is good that they have built new houses for us […] But the company did not replace any possessions that were flooded by the water. We are using household goods donated by the Myanmar Red Cross. The Delco company just built us a small house and provided nothing else for us".
Another local, Ma Htay Ngal, commented, "The houses that the company built for us are not finished yet. We don't have the money to buy household goods. My children can't stay on the cement floor [provided by Delco]. After they sit on the cement floor the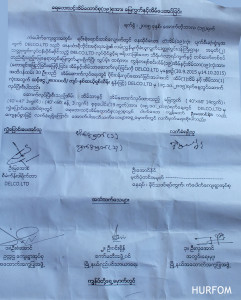 y get sick. The school is also very far from our new house. Before, we did not need to accompany our children to school, but now we need to take them".
According Ma Htay Ngal, the silt lake accident has left some of its victims in financial ruins. She explained, "The company said that they would provide electricity, water and a television in compensation. But we have not seen them since the incident. They gave us papers saying that they would provide 2.8 million [Kyat] for building new houses, and we had to sign [in agreement]. We sold my earrings to get money to solve our daily food problems […] After we arrived at the new house built by the company, our neighbor gave birth at her home and her child died. She did not go to hospital for the delivery because she had no money to go".
Reportedly, Delco offered compensation to the parents of Mg Myo Min Oo, the 12-year-old boy who died due to the accident. However, the parents have not yet received any payments.
Kan Bouk resident, Ma Chaw Su, expressed local frustration with the company, explaining, "We don't want the company to be in our village anymore. We want them to stop it. The company uses dynamite explosions 10 times per day. Our house shakes from the dynamite. We feel bad. We don't want to live here anymore".
She added, "When the silt lake broke I just took my child. I couldn't take all of my property. This happened once before in the past, but it wasn't as bad as it is now. We have lived here since we were children, but we have never faced anything like this before".
The Chinese-owned Delco Company has worked in Burma, extracting tungsten and other materials, since 1998. Notable shareholders include Yebyu Township Member of Parliament U Win Oo. Two company managers have been arrested in connection to the incident in Kan Bouk.
Comments