Kaw Taung resident tackles 15-year land dispute
HURFOM: For fifteen years, landowner U Nyan Sein has watched his property line slowly close in around him. The 70-year-old Kaw Taung resident reports that sections of his land were carved out and used by local authorities on two separate occasions, despite his documentation proving rightful ownership. After again informing the district administrator of the issue, U Nyan Sein approached U Than Tun, the regional organizer of the Democratic Party (Myanmar), on August 30 to help him pursue legal recourse.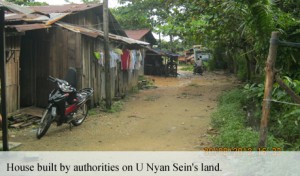 "They [local authorities] came and did what they wanted, even though I did not allow it. They built a house on my land and I took all of their pictures as proof. Since I did not understand the constitution very well, I asked U Than Tun for help," said U Nyan Sein.
According to U Than Tun, U Nyan Sein's 8.52 acres began legally passing through generations of owners in 1958, when the ruling Anti-Fascist People's Freedom League provided land grant documentation. Since then, successive landowners have regularly paid taxes on the property.
"When we checked out the documentation, it indicated clearly that the land was applied for on June 26, 1958, and was legally granted by the government to the applicant on July 7, 1958. At that time, Kaw Taung was just a small village," said U Than Tun.
District and quarter administrators, as well as the Department of Settlement and Land Records, are being alleged as the parties responsible for seizing and sectioning off the land.
The first advance on U Nyan Sein's property occurred in 1997, when the Dad Ta Man Company arrived to pour concrete for the construction of Naing Lwin road. At that time, local authorities asked permission to use two acres of land to build an apartment for construction workers and to store materials. U Nyan Sein maintains that he did not consent, but the land was confiscated soon after.
Later, local government authorities looking to expand the city boundaries appropriated three more acres of land, despite U Nyan Sein repeatedly presenting his land grantee document.
"There are only a few acres of land left for him now. If they take more, U Nyan Sein will have a big problem," said U Than Tun.
On September 3, U Than Tun sent copies of a letter describing the violations to President Thein Sein, province and district police, and the military battalion stationed in Kaw Taung District. He reported that, on September 5, authorities summoned U Nyan Sein and asked him to sign a statement clearing them from complicity in the confiscation. U Than Tun advised U Nyan Sein not to sign.
Additional allegations of landowners experiencing similar violations in Kaw Taung, part of Tenasserim Region, have recently been reported.
Comments