MNEC give up on requests for funding from the Mon State government for Mon educational programs
HURFOM: According to an official from the Mon National Education Committee (MNEC), the committee has given up on requesting education funding from the Mon State government.
"More than a month ago we requested 50 million kyat (US $32,446) for the Mon education system. We hoped to repair about 50 damaged schools with that money. But our proposal doesn't match the budget policy of the Mon State government. So the government replied that we must change the goal of our proposal to get funding. They advised us to plan an organizing event or a kind of competition to get funding. We informed the committee [MNEC] about their suggestion and the committee decided to stop requesting funds from the government," said Nai Rot Ga Kao, an official of the MNEC.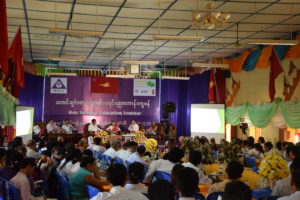 The Mon State government is allocating 100 million kyat (US $65,000) for Mon affairs in the 2017-18, and 50 million kyat was already funding the graduation ceremony of the "Summer Mon Literature School". Therefore, the MNEC has planned to apply for the rest of the 50 million fyat for educational purposes.
Currently, the MNEC is facing a funding challenge for Mon school teachers' salaries and the cost of school utilities and stationery. In the past, the MNEC used to request 180 million kyat (US $116,806) for Mon education from the Mon State government; however, the government could do nothing as the New Mon State Party (NMSP) had not yet signed the National Ceasefire Agreement (NCA).
"Now the NMSP has signed the NCA, but I have heard nothing about supporting Mon education. I think the government will not give funding and we have a tough budget at the moment. So to support the salary of the Mon school teachers we have to totally rely on donors," said the official.
The Mon State government had planned to allocate 150 million kyat for the Karen, 150 million kyat for the Pa-O, and 150 million kyat for Bamars in Mon State in this budget year. Mon lawmakers have requested the Mon Chief Minister, Dr. Aye Zan, to grant funding for Mon people, and the Mon State government decided to allocate 100 million Kyat for Mon affairs.
The MNEC was found in 1972 under the NMSP and runs 133 Mon national schools and 32 mixed schools (schools run by the MNEC and the Mon State Ministry of Education). Currently, the MNEC has 780 schoolteachers and 59 educational staff.
Comments