Mon National School summer programs facing a teacher and funding crisis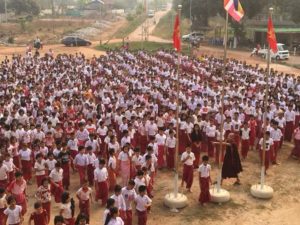 Mon National Schools are facing a shortage of teachers for its 70,000 students in its summer program due to a funding crisis, according to Nai Mon Ral Gal, joint secretary of the Mon Literature and Culture Committee.
"Although we must have teachers to teach the students, we have no money to provide a salary for the teachers. It is difficult to get teachers without paying a salary," he said.
Some townships in Mon State open summer programs for Mon National Schools after the government schools close for the year in March, while some wait to open after the water festival in April. The summer school program operates in 18 townships throughout southern Burma, including all of Mon State and parts of Bago Region.
Nai Mon Ral Gal continued, "most teachers are monks and we have help from some Mon people who can teach Mon language. We have faced a lot of difficulties this year. We have no money to support teacher salaries. We have to ask them to work for free."
There are about 1,500 students in the Mon summer program in Rehmonnayrahta University in Mawlamyine, however the school does not yet have enough teachers for their program, which began on March 5th.
"We need a lot of teachers. We posted online [about our need] and some of our friends and some villages will come and help us…We mainly aim for Mon children from Mawlamyine to learn the Mon language and so we accepted students from standards one to nine," said A Shin Kaymarsarra, the leader of Mon Summer Program from Rehmonnayrahta University.
Mi Own Kyin, a student's mother from Ning Pring village explained that, "we are interested in this program because we heard that the program also teaches Mon and English as well. If children can speak English, it is useful for their future and therefore we want them to get English [language training] too."
Comments