Burma Army orders the NMSP to limit the number of attendees at planned NCA forums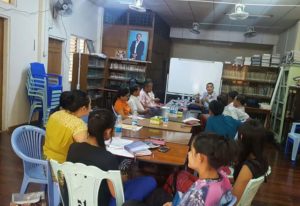 HURFOM: Burma Army Southeast Military Command is limiting the size of New Mon State Party (NMSP) forums with Mon citizens. The NMSP had planned to meet with citizens throughout several districts in Mon State to discuss the recently signed Nationwide Ceasefire Agreement (NCA) with the union government.
"About two or three days before we were to hold the forums, the military contacted us and told us that they will only allow around 30 to 40 people to join each of the meetings. We had planned to meet with around 250 people per district. Because of this problem we have postponed the date of our forums and have not yet met with citizens," Nai Win Hla, head of NMSP's Home Affairs Department.
The forums were planned to be a discussion between the NMSP and Mon citizens regarding the NCA and other Mon political issues in several Mon State districts and NMSP-controlled areas, including border regions.
"According to the policy of Union Peace Dialogue Joint Committee (UPDJC), while the NMSP must inform the Burma Army regarding any meetings or forums in NMSP-controlled areas and villages, they are not required to gain permission. Now even though we have organized the meetings in our area, the military has come and ordered us to limit the number of citizens we invite. This is not fair. They are bullying us," said Nai Oak Sar, a member of the organizers committee.
On February 13th 2018, both the NMSP and the Lahu Democratic Union (LDU) signed NCA with the union government in Naypyitaw. The NMSP is currently in negotiations with the Burma Army to conduct the forums as originally planned.
Comments