Villagers upset over damage to plantations by treasure hunters searching for WWII loot
HURFOM: Treasure hunters searching for fabled caches of buried gold and other valuables left by retreating Japanese troops during World War II have residents in Thanbyuzayat Township, Mon State, worried about damage to local plantations.
Excavations by Yangon-based Golden Geo Myanmar Company Ltd. (GGM) began early February near Mount Mane Mala (Samane Blai) at the western edge of Thanbyuzayat Town, Mon State. Angry over the sudden appearance of deep holes in farming fields and increasingly concerned about the use of explosives to aid in the treasure hunters' search, local villagers submitted a complaint to local authorities voicing their displeasure.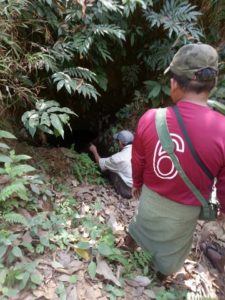 In response, authorities from the Thanbyuzayat Township General Administration Department (GAD) mounted an investigation into GGM's operations. Authorities discovered that GGM did not have any permission to conduct search operations and they were subsequently forced to cease their hunt by GAD officials.
"They have randomly dug holes in the plantations of local people in order to search for Japanese treasure. They knew nothing with certainty, but dug holes for treasure there anyways. If there is blasting, the local people and farmers are the ones who have to suffer from these explosions. No one dares to go there. Everyone is afraid of explosions," said Nai Kyaw Win, a Krone Krote villager.
GGM's search area is located three miles west of Thanbyuzayat Town and is bordered to the south by Krone Kote village. Most of the hills in the area have been transformed into rubber plantations and the company has reportedly dug holes in these plantations without prior permission from the owners.
"The company dug holes up to five feet wide and 20 feet deep. [Now], there are seven holes and the water has protruded up to ten feet [in some of the holes]. They dug these holes as if they were digging water wells," according to local resident Nai Lin Lin Khine.
Locals also reported hearing an explosion one night and the surrounding villages have felt unsafe ever since. However, no one could confirm whether the sound was due to the search efforts.
Although GGM was forced to stop their search by local authorities, they have already requested permission to continue their search.
"In order to get permission to dig for treasure, we've already submitted a letter to the township- and state-level authorities. We'll continue our search after getting permission. It will be very good for us if we also get permission from the Union Government," said U Win Thein, GGM's Managing Director.
When asked about the issue, Mon State Minister of Natural Resources and Environment Dr. Nai Hong Dane (Min Kyi Win) said, "we have no authority to make a decision on whether to allow a company to search for Japanese treasure. It is an issue for the Union Government."
The hills surrounding Thanbyuzayat Town have long been rumored to harbor buried treasure left by occupying Japanese forces during their retreat at the end of World War II. Similar claims of unfathomable wealth buried by Japanese troops persist throughout Southeast Asia, particularly in the Philippines.
Comments