High expectations for development by local villagers after NMSP agree to sign NCA
HURFOM: After meeting with State Counselor Daw Aung San Suu Kyi and the Commander-in-Chief of the Myanmar Armed Forces, Senior General Min Aung Hlaing, on January 23rd 2018, the New Mon State Party (NMSP) announced they will sign the Nationwide Ceasefire Agreement (NCA) on February 13th in Naypyidaw.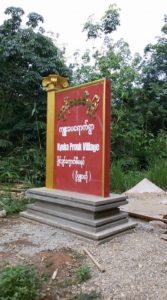 News of the NMSP's announcement was met with expressions of hope for increased development by villagers living in the surrounding area of the NMSP's headquarter. Expectations are high that the NCA will bring better infrastructure and telecommunications to local villages, as well as initiate local development programs.
"We have had high expectations [for local development] for a long time. The phone companies have already set up their telecommunication towers but they are not operating yet. The villagers are dying of hunger for phones and roads. I think it's definitely okay this time," said Nai Khin, an ethnic Tavoyan who lives in Pa Nan Bane (Ye Chaung Phyar) village, located in a NMSP-controlled area.
During the rainy season, because of bad roads and a poor transportation system, students and patients in NMSP-controlled areas have difficulty getting to schools and clinics.
"After finishing Standard Four (Grade 5), the students in Joe Ha Baru and Pa Nan Bane have to join the school in Nyi Sar – the NMSP's headquarters. Some students go to school by bikes, but some have to go on foot," said Seik Hlane, an official from the Mon National Education Committee (MNEC).
Most of the villagers who live in the surrounding area of the NMSP's headquarters make their living on plantations or other agricultural activities.
The surrounding area of the NMSP's headquarters includes two regions – Pa Nan Bane (Ye Chaung Phyar) that has eight villages and Ba Lae Don Phike that has 12 villages. These areas are also known as a NMSP development area. Even though these two regions have many villages, houses, and people, the transportation and communication systems are very poor.
Central committee members of the NMSP have also promised that they would gear up on working on local development projects and improve road and telecommunications after signing the NCA.
Comments