Villagers forced to porter and labor for soldiers in Mon and Karen States
HURFOM: Although the new civilian-led government and ethnic groups have signed a number of ceasefires in 2012, many civilians continue to experience violations caused by military presence in their villages. Since March, residents of two small villages in Karen and Mon States have been forced to work as porters, carrying heavy loads for the troops, or forced to labor on military plantations.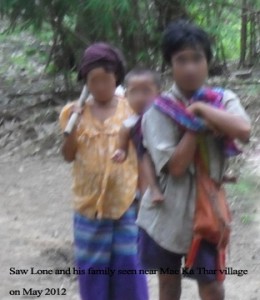 The following accounts were collected in Mal Ka Tar, Mal Za Lee, and Kyaung Ywa villages, and detail residents' encounters with forced labor and porter duty this year.
Saw Lone, 32, lives in Mae Ka Tar village and has served porter duty five times. The assignments have kept him away from home for long periods of time, leaving his family to struggle financially without his support. The most recent incident occurred between March 18th and April 8th, when Saw Lone reports that he was forced to carry materials for a march by Front Line No.1 Light Infantry Battalion (LIB) No.283, led by Captain Aung Thu Ra, to Anan Kwin military Tactical Command No.3 in Kyainnseikyi Township. Saw Lone hauled items ranging around 30 kilos in weight, including bags of rice, weapons, artillery, or other materials. He does not speak Burmese language well, and was physically abused when he misunderstood orders. The military provided porters with minimal food, and punished them if they requested to go home. Along the march, soldiers that were wary about suspected minefields in certain areas commanded ten porters, including Saw Lone, to walk in front. Saw Lone described the porters as feeling humiliated because the troops were not treating them humanely.
"Some of villagers were released after serving as porters for one week, but I wasn't because [soldiers] thought I ignored their commands and was disrespectful. Two weeks later, when we arrived at the Anan Kwin military Tactical Command No.3 in Kyainnseikyi Township, the captain let me go. I was suffering a fever and could not work when I got home, so my family had a hard time with our income. We moved to Mae Ka Tar village where a relative lives, and now I am working on a rubber plantation. I hear that the KNU and Burmese ceased fighting each other, and I hope they do not fight again because, if they do, we will face another dangerous situation."
On June 22, 2012, soldiers from the Military Support Units led by Corporal Kyaw Lwin Oo from LIB No. 591, based near Kyaung Ywa village, stopped Ko Soe Soe, Nai Ka Lai, and Nai Ah Ni as they went to work on their plantations. The soldiers demanded that the three men cut and tidy the bushes on the military rubber plantation (land that was confiscated from local residents ten years prior), and the men did not dare refuse. Although many soldiers are based in the area, local villagers were conscripted to do the work.
The military also directed the men to fix the plantation fences, working them from 7am until 6pm, breaking only for lunch that the troops provided. When the three men finished the work, the soldiers gave them a letter to deliver to the village chairman requesting more civilian laborers to clean the military's land.
According to Ko Soe Soe, "Villagers continue to face similar violations in the area. Before, the troops didn't have any land and had been in this area since my father's generation. Then, they built and extended their bases on to land confiscated from local residents, on which rubber trees were growing. They took over the profits from the rubber, and forced the villager to maintain the plantations. If the villagers could not work on the plantation as ordered, they had to provide money instead."
"The troops are still willing to force villagers [to work] because many troops are based in the area. If the troops were not based here, we could invest much more time in our work."
Comments