Industrial Mahachai concludes second child labor conference
HURFOM: Last Friday, the Royal Thai Government's Department of Labour Protection and Welfare and the Thai Frozen Foods Association jointly held an educational conference covering Thailand's child labor laws. The event was aptly organized in Mahachai, a port town about 45 kilometers southwest of Bangkok where an estimated 1,200 to 1,300 factories employ hundreds of thousands of undocumented workers in Thailand's booming seafood industry.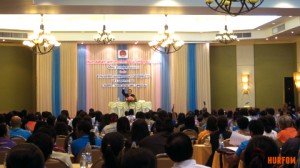 Thailand is a signatory to the International Labour Organization's Worst Forms of Child Labour Convention and the Minimum Age Convention, which define children as under 18 years of age and set the minimum working age at 15. While employers are thereby allowed to hire within that age bracket, they must comply with basic standards established in the Labour Protection Act that limit legal working hours to between 6am and 10pm and prohibit employees from performing dangerous jobs[1]. Conviction of the latter offense can result in charges to the employer of up to 20,000 Baht. In addition, when companies choose to employ children under 18, they are required to notify the government.
Despite these measures, the number of underage employees in the industrial areas of Thailand is thought to remain high. The Thai government and local non-governmental organizations (NGOs) offer school programs targeting children from migrant families, but report fighting an uphill battle against parents and employers that continue to permit and solicit child labor. The conference on November 9 aimed to bridge the gap between negligent factories, uninformed families, and the growing penalties for noncompliance.
This was the second conference of its kind in Mahachai, a local name for the provincial capital of Samut Sakhon. Approximately 100 employers, migrant workers, and government officials were in attendance, a noted increase over last year's numbers. Previously, NGOs and community-based labor groups typically coordinated child rights efforts, and employers frequently interpreted the absence of participating law enforcement as a free pass to disregard the topic. However, after the successful turnout this year, the attendant Thai government departments and workers' associations plan to expand the conference into other parts of the country that are similarly acknowledged as hubs for child labor exploitation.
Conference attendee Nai Layi Mon said, "Only some employers and workers are interested in protecting child rights. Most are not eager to follow the law by looking more closely at their employment activities in which children may still be involved. Many employers only see their own profits, and they want to hire children even though the work is inappropriate for them. Also, the employers never cared about what NGOs did in the past but now they have to follow the law. This conference was good for children and for us because the Thai government officials are involved. Now, at least employers might respect the law because of the government representatives in attendance."
---
[1] "Child migrant workers still exploited in seafood industry," The Bangkok Post, October 28, 2012. http://www.bangkokpost.com/news/investigation/318515/child-migrant-workers-still-exploited-in-seafood-industry
Comments