MNEC to hold conference to draft national ethnic language education policy
HURFOM: The Mon National Education Committee (MNEC) announced that they will hold a two-day conference in May 2018 to collect data and information on ethnic languages and education around Burma. The MNEC will use this data to draft ethnic language education policies, which they will present to the union government.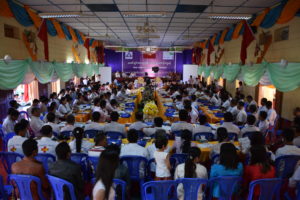 The MNEC will invite Karen, Shan, Karenni, and Chin education committees, among others, to participate in the conference and voice opinions and solutions to current problems facing ethnic language education in Burma.
"Our union has a variety of ethnicities and each ethnicity speaks their own language… We [Mon people] have decided to build a federal union in the future and we've accepted that we must use our own language. The [union-level] Ministry of Education has also accepted this concept. But we do not have detailed policies on ethnic languages and education. The [Burma] government doesn't know how to collect data in order to help us, so they asked us to collect information and draw policies and report back to them," said Nai Rot Ga Kao, from the MNEC.
The conference is scheduled for the second week of May and the MNEC are currently planning consultation trips to various education organizations to collect data and learn how the different organizations operate. The MNEC will also encourage these committees to have a stronger voice in advocating for government policies on ethnic language education.
The MNEC was founded by the New Mon State Party (NMSP) in 1972. They currently have 133 Mon National Schools and 92 mixed-schools which are controlled by both the NMSP and the government. The MNEC has also appointed 780 school teachers and 59 education officials.
Comments