Child sufferers of dengue fever pack Moulmein hospital
HURFOM: Since last month, the American Specialist Children's Hospital in Moulmein has been overflowing with children stricken by dengue fever. The hospital, which mainly treats children from Mon State, is managing a dengue outbreak that has resulted in rooms crowded with child patients, overfull treatment areas, and frequent bed sharing. Children between the ages of three and ten are the most common victims of the disease, and there may be little respite from sickness until the rainy season concludes.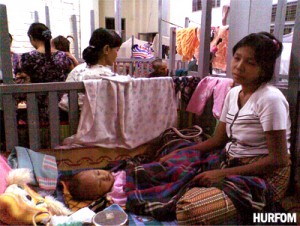 Children suffering from dengue fever are often turned away from village clinics, where health workers who are doubtful about satisfactorily treating the disease suggest patients visit the nearest hospital. The woman relative of a child with dengue fever explained, "The 7-year-old was getting sick and her mother took her to the clinic in Moulmein, but she did not get well. Five days later, she went to clinic again and the clinic doctor told the child's mother to go to the hospital. When they arrived, the hospital staff ran a blood test and gave her medicine that cost the mother 12,000 kyat.  The child stayed at the hospital for one week, but she got better and was able to go home."
The relative added that, when she visited on July 14, the hospital's communal patient room was exceedingly crowded and patients who wanted a private room had to pay 1,000 kyat per night. While the hospital employs many young doctors who recently finished their medical studies, most patients choose to wait for treatment from a doctor with more experience. Due to check-up and treatment times of roughly an hour and a half, the hospital quickly fills with patients waiting to be seen. According to the relative, while the hospital was overcrowded, the staff did separate sick and recovering patients to prevent disease from spreading.
Last year, the American Specialist Children's Hospital faced similar crowds during the rainy season, which usually parallels an increase in cases of dengue fever. At that time, Myawaddy and Kawkareik Hospitals in Karen State also reported insufficient bed space to keep up with the influx of patients. This year, illnesses are projected to increase as the rainy season continues, and for now, there may be little to curb hospital overcrowding and child sickness.
Comments