Reports of child trafficking and abuse prompt educational workshop on the border
HURFOM: On July 7, local health and child rights organizations jointly offered a child trafficking workshop in Gu Bao village, located in the border area of Three Pagodas Pass Township.  Reports surfaced in the village that incidents of child trafficking and abuse were imminent, and the workshop was quickly mobilized in the hopes of stopping violations before they occurred. The event welcomed about 80 attendees, and aimed to create awareness about child protection laws and facilitate an open community forum to share opinions and concerns.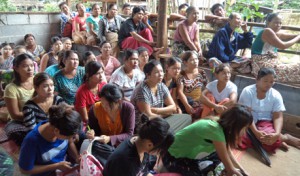 Mi Sauh Ta Jo, coordinator of the Women and Child Rights Project and workshop organizer, said, "In recent years, we just collected and documented issues of abuse. But this year, because villagers informed us that child trafficking was ongoing and unacceptable, we wanted to hold a workshop to promote education and the exchange of ideas. For this reason, we rushed to hold the workshop to prevent any problems. We also announced that we would take responsibility for prosecuting any person who commits child trafficking."
Child trafficking and abuse in Three Pagodas Pass Township often occurs due to gaps in education, awareness about legal implications, and presence of law enforcement. The absence of consistent work and adequate salaries in the area also exacerbates the problem, creating an environment in which children may represent the income needed to elude extreme poverty or family turmoil. The following three cases, reported shortly before the workshop was organized, detail some of the frequent challenges to child rights and protection faced in border regions.
Potential child trafficking
A local 15-year-old girl arranged to be smuggled to Bangkok to find work. Since she left for the smuggler's house in May of this year, her parents have not received any word from her. The parents, along with local members of the Mon Women Network (MWN), went to the smuggler's house to look for her, but the girl was not there. The smuggler acted aggressively towards them, frightening the group into not asking about the girl. The parents believe their daughter had no money when she left home because they had forbidden her to leave and gave her no financial support. The village chairman was informed about the missing girl, but did not actively pursue the case. The girl's parents continue to contact MWN in the hopes that information may come to light.
Unregulated adoption
On June 2, 2012, a local woman gave birth to a son two months prematurely. The boy was immediately given to a broker who was to facilitate the baby's sale to a childless couple from Su Rak village. When MWN learned of the exchange, they became concerned about the baby's ability to survive after being taken from his mother before ever being breast-fed. MWN members visited the broker to entreat him to give the baby back to his mother, and also called the village chairman to aid with the child's return.  When the baby was brought to his mother, she reacted angrily because she had already decided to sell her son for 50,000 Baht. She needed the money to pay a debt, and although her husband was against the sale, she tried to sell the child while the father was away. MWN members eventually persuaded the woman to care for her son for a few days before the couple arrived. Member Ma Aye Myint gave the mother 420 Baht to help with the caretaking, and when the woman saw the money, she hugged her baby. When the couple arrived to take the baby four days later, MWN members tried to dissuade them.
According to Ma Aye Myint, "When I asked them what they were going to do with the baby, they said that they have no son or daughter and want to look after the baby. I told them that if they really want to support the baby, they should not make a deal like this and should use that money to support his future. If you [purchase the child] with money, you are not far from the law. When I explained it to them like that, the couple confessed fault because they did not understand the law. They thanked me because now they understand the issue. They left with their money and without the baby. Later, the baby's father arrived and now they can live peacefully."
Child Abuse
Mi Khing, the mother of 6-year old boy Mg Thu Ra, decided to give her son to villager Nai Pan on July 5, 2012. Mg Thu Ra was Mi Khing's son from a previous marriage, and her new husband was extremely abusive toward the boy. Nai Pan Nyoke accepted the child as his son, without offering payment, and planned to raise the boy to become a monk. At that point, MWN members intervened to ensure that Nai Pan Nyoke would treat Mg Thu Ra with respect and would give the boy to his biological father, without requesting payment, in the event of his return.
Conclusion
The International Labor Organization estimates that, worldwide, 1.2 million children are trafficked every year, and between 200,000 and 250,000 women and children are trafficked in Southeast Asia alone.
To improve awareness and strengthen community dedication to child protection, workshop facilitators explained international laws on child trafficking and the criminal sentences mandated by Burmese and Thai trafficking laws.  Burma's human trafficking law dates to 2005 and penalizes any person convicted of child trafficking with a minimum of 10 years in prison, a maximum of life in prison, and a possible fine. In Thailand, if a child under the age of 15 is trafficked, the sentence for the trafficker is between 8 and 15 years in prison, with a fine of at least 160,000 Baht and up to 300,000 Baht.
Attendee Ma Aye Myint said, "For me, the workshop was very helpful because we rural people have not attended this kind of event held in our area before. Now, since there is a workshop that promoted education for rural people, there are positive expectations for us to improve our actions and knowledge."
Comments