First ever Women and Peace Workshop held in Mon State
HURFOM: On June 17, the first "Women and Peace Workshop"was organized by the Mon Women Network (MWN) at Nai Shwe Kyin's library, in Moulmein, Mon State. The workshop was an important milestone for Mon women because it advocated for women's participation in peace talks and created a space for women seeking to connect with Burma's reforms to share with each other, learn key concepts, and strategize for the future.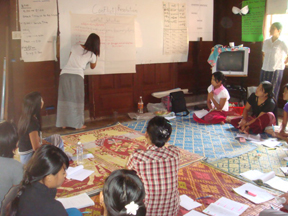 The MWN organizer said, "I feel very good about this workshop because more prominent participants attended than we planned for or expected, so we were able to learn about and discuss peace and women's issues with many of our Mon colleagues. I would say the workshop was successful even though many things had to be hurriedly adjusted leading up to the event. The workshop was successful in that it was the first workshop organized by MWN and it achieved the intended outcomes, despite being held during the heavy Moulmein rains in Mon State."
The objectives for the Women and Peace Workshop centered around the MWN linking different participants in order to gain education in peace building, negotiation, and mediation. The workshop also addressed and promoted UNHCR 1325, the first formal and legal document from the United Nations Security Council that requires parties in a conflict to respect women's rights and to support their participation in peace negotiations and post-conflict reconstruction. Participants were exposed to international practices and discussed engagement with the Burma peace process. The workshop encouraged both representatives from organizations and individuals to join in order to strengthen and grow the network.
A woman from Moulmein who attended the workshop said, "I have never attended a workshop like this before. This workshop is very important to me and for all women who can participate in peace talks because we can understand how to talk about peace in the community and in government. We can also better understand the process of peace talks. Right now, a peace-building workshop is important for me but is also important for people all over the world. Without peace it is difficult for us to accomplish our work. Some talk about peace but they don't understand what it means. We all should reflect about how we are going to talk and build trust with each other. I am very glad to attend this workshop because we can learn the strategies of peace building. We can understand the way to talk peace".
The workshop discussions covered mediation and negotiation, female roles in negotiation, women's participation in the peace talks, UNHCR 1325, developing strategies for political engagement, and analyzing relevant lessons from Nepal and Sri Lanka case studies.
In total, 23 women from Mon State attended the Women and Peace Workshop. The event was facilitated by the Shalom Foundation (Nyein Foundation) and organized by the Mon Women Network, a group established in December 2011 by Mon women from Mon State and the Thai-Burma border.
Comments