KWAT Demonstrates Persistent Abuses and Impunity in Kachin State
HURFOM: In this month, the Kachin Women's Association Thailand (KWAT) released its report "Ongoing Impunity" documenting firsthand accounts of human rights abuses in areas affected by armed conflict in Kachin State. The publication presents updated information about atrocities committed over the past year by the Burmese Government Army against ethnic Kachin and other local inhabitants. According to the findings, the Naypyidaw Government and its Army continue to commit serious human rights abuses with total impunity.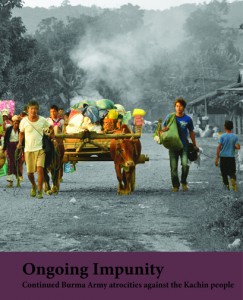 "Ongoing Impunity" provides strong evidence for how the Burmese Government Army systematically uses rape as a weapon of war during conflict.  KWAT field researchers documented the rape or sexual assault of at least 43 women and girls, 21 of whom were killed, since the outbreak of violence in June 2011. The report demonstrates how sexual violence against women has been widespread, having occurred in thirteen townships of Kachin territory, and committed by ten different battalions. Women have been blatantly kept as sex slaves by military officers or gang-raped, even in a church, according to the report.
The report also deals with the suffering of women victims forced to serve as porters, in the same way men are, and that ended up being gang-raped for several weeks in the armed conflict areas of Kachin State.
"Whenever war comes, many women and children are raped by the soldiers. We can say that the government has a secret policy for soldiers to use rape as a weapon of war. This means that the government creates an environment of impunity for the soldiers," said Moon Nay Li, a coordinator at KWAT.
The field research depicts how the Naypyidaw government sent 150 battalions into Kachin conflicts areas and created over 75,000 internally displaced persons who now shelter in temporary camps along the China-Burma border where little aid is may enter.
The report states that all findings are based on the genuine experiences, observations, and stories of individual victims who agreed to share their accounts from ongoing conflict zones in Kachin and northern Shan States.
KWAT calls on the international community to denounce human rights violations, maintain pressure on the Burmese government to implement a nationwide ceasefire and peace process, pull Army troops back from ethnic areas, and start dialogue with the United Nationalities Federal Council (UNFC) in following with genuine political reform.
The Kachin Women's Association Thailand is a non-profit organization based in Chiang Mai that has worked on behalf of Kachin women since 1999. Since its formation, KWAT has had field networks in mainland Kachin State that carefully document the rights of women and children. The group also provides capacity building and educational programs to increase awareness of gender, women's rights, health, and environmental protection issues for women living in Burma's Kachin State.
Comments