DPW Analyzes Human Impact of Dawei Deep-Sea Port Project
HURFOM: The human rights and environmental advocacy group Dawei Project Watch released their assessment "No Rights To Know" investigating the lead up to and implementation of the Dawei deep-sea port project in the end of May 2012. The revealing document demonstrates how local residents did not have prior knowledge that a special economic zone was to be constructed right on top of their villages, because project authorities developed the plan in secret. Villagers were not afforded the rights to be involved in decision-makingor notified of key information that directly impacts their lives. Many residents now wonder and worry how the project will affect their communities, specifically security for young women and threats to cultural identity, customs, language, food supply, and other local resources.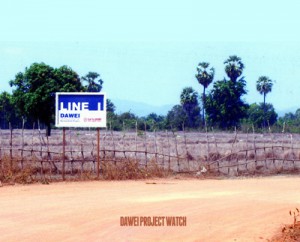 Dawei Project Watch (DPW) is a group of local activists and human rights workers whoobserve and collect information about the Dawei Special Economic Zone (SEZ) project. Over the course of three months, DPW recorded their accumulated data into a basic needs assessment to share with donors and aid groups, intending to unveil the lack of accountability and transparency exhibited by the government and related companies. The assessment will also allow people living in the project area to better understand and consider its consequences.
Since June 2008, when the agreement for the projected 10 year Dawei Project was signed, the Thai government and State Peace and Development Council (SPDC) have been gradually instituting the project. For example, on January 8th, 2011, local authorities from the SPDC military government started making lists of local owners of houses, plantations, and paddy fields that fall within the Dawei deep-sea port construction area.
Authorities from the Dawei Special Economic Zone (SEZ) and the Italian-Thai Development Company (ITD) will confiscate about 8,000 acres of paddy-cultivated lands, 10,000 acres of rubber plantations, 12,000 to 14,000 acres of cashew-nut plantations, and over 150,000 acres of orchid plantations. If the project is implemented, villagers from 21 communities will lose almost all of their property. The total economic zone constitutes about 250 square meters (97 square miles) in which approximately 30,000 people, or 5,500 families, will be directly affected.
Some houses have already been removed due to their proximity to road reconstruction sites in 10 of the 21 villages, including Kamyaingswe, Mudoo, Htaingyi, Mudoo Ngae (Western Mudoo), Pan Tin Inn, Bagaw Soon, Yalai, Paradat and Kyakhatabin Inn, according to the DPW assessment.
HURFOM interviewed DPW member Nai Ramonnya, age 40, who has visited and monitored the project site many times. He explained the situation of residents who have to leave their houses, plantations or farms.
"Even though the villagers are being forced to relocate, they do not want to leave, especially older people who have lived in the villages their entire lives," he said.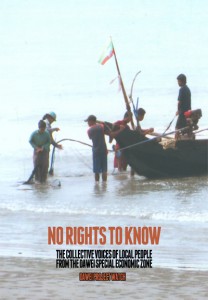 "Some families have moved to places where relatives live, even though the new locations may not be suitable to sustain livelihoods, because they are not sure whether the government will provide them with new land or how much compensation they will get for confiscatedproperty. They don't know what to do about future plans since the project authorities have yet to describe what will happen," Nai Ramonnya continued.
At the World Economic Forum in Bangkok on June 1, 2012, Aung San Suu Kyi, Chairman of the National League for Democracy (NLD) and one of the members of Parliament warned investors and businessmen who plan to invest in Burma to do so with an awareness of the need to improve the lives of ordinary Burmese people. She also mentioned in her speech that the government was pushing through democratic, economic and social reforms, but did not seem willing to make much effort in overhauling a judiciary that lacked independence and transparency.
"For a moment please don't think too much of the benefit investment will bring to investors," Suu Kyi said. "We don't want investment to mean further corruption… and greater inequality."
DPW urges the Italian-Thai Development Company and other investors to clearly explain the project's entire planto residents, and to listen to their concerns.
The previous Burmese military regime, or SPDC, and the Thai government agreed upon and signed a Memorandum of Understanding (MoU) on May 19, 2008, to develop and implement the Dawei SEZ plan. The bi-literal agreement grants Thai companies extensiveinvolvement in the construction of Dawei SEZ, permitting almost monopoly control of the project'sdevelopment. Besides the Dawei SEZ, the new government led by U Thein Sein also implemented the Thilawa Special Economic Zone near Rangoon (Yangon) and the Kyauk Phyu Special Economic Zone in western Rakhine State as part of a long-term plan for economic progress during his government's administration.
Comments