Torture and ill-treatment in Burma: Findings from the Human Rights Network report
HURFOM: The Network for Human Rights Documentation – Burma (ND-Burma) released a special report that documents accounts of torture and ill-treatment since 2010. The report analyzes testimony from two primary places: ethnic areas where the Burmese Army is actively engaged in armed conflict, and detention centers where political prisoners are interrogated and confined.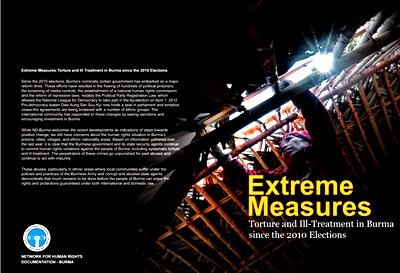 The Human Rights Network organized the report, entitled "Extreme Measures," with documentation collected between January and December 2011 by field researchers from its 13 member organizations. The network documented 371 cases of human rights violations throughout the country, of which 83 cases (22 percent) constitute torture and ill-treatment. [Extreme Measures Eng -PDF]
Much of the testimony featured in the report reveals that torture and mistreatment in ethnic areas commonly takes place within the context of other human rights violations, including forced labor, arbitrary arrest, sexual violence, confiscation of property, and restrictions on freedom of movement.  The report also highlights how torture can take place shortly after an individual is arrested for political beliefs or activities, during interrogations, and over the course of prison sentences that are often inordinately lengthy or severe.
The evidence exhibits how the Burmese government continues to commit brutal torture and abuses against its own people despite being bound by international human rights treaties and norms. The report proves that the lack of domestic legislation to prohibit torture, the absence of an independent judiciary, and an ineffective Human Rights Commission all contribute to a situation in which torture and persecution are perpetrated with impunity.
"Since two years ago, during the conflict between Kachin armed groups and Burmese military soldiers, there have been over 100 cases of terrible human rights abuses, including torture, according to evidence collected by our field reporters. Over the course of the conflict, some women have been raped and some people have been killed. This was unacceptable for the communities. Every ethnic group wants peace, but the government continues to ignore cases of abuse perpetrated by the military instead of seeking a resolution," said Moon Nay Li, a Coordinator of the Kachin Women's Association – Thailand (KWAT).
"I would say that these abuses are the direct result of ongoing armed conflict and the Burmese Army's militarization policy and practice in ethnic minority areas. Additionally, unlawful conditions still exist in various detention centers in Burma. The international community and government agencies should be aware that as long as these kinds of violations persist in Burma, trust and harmony between the government and the people will remain elusive. These conditions make it very hard for the country to progress toward being a functioning democracy that respects rule of law and fundamental human rights," said Nai Aue Mon, Coordinator of the human rights documentation program at Human Rights Foundation of Monland – Burma.
ND-Burma was formed in 2004 and is a multi-ethnic network providing a mechanism for Burma's human rights organizations to collaborate on the human rights documentation process. The network is made up of 13 human rights organizations that aim to seek truth and justice for a peaceful democratic transition in Burma. The member organizations share the same system of documentation, a common language to define human rights violations, and a secure common server. The network generates data from its human rights documentation to analyze in situational reports and to provide to relevant advocacy campaigns. Since 2004, the Human Rights Foundation of Monland – Burma (HURFOM) has been one of the key member organizations of the Network for Human Rights Documentation – Burma.
Comments