Absent rule of law and human rights abuses in Three Pagodas Pass border town
HURFOM: Although the government has signed ceasefire agreements with the ethnic armed groups Karen National Union (KNU), Democratic Buddhist Karen Army (DKBA), KNU Peace Council (KPC), and the New Mon State Party (NMSP), the Thailand-Burma border town of Three Pagodas Pass still remains outside the rule of law, rife with corruption, extortion, arbitrary taxation, and other human rights abuse committed by government authorities, the Burmese army, and armed ethnic groups.
On May 14th, Union Railway Minister U Aung Min and Karen State government officials went to Three Pagodas Pass to open the town's KNU liaison office and host a meeting about border development projects.  However, authorities did not seem interested in establishing rule of law, and instead allowed the different armed groups to continue their activities without restriction.
The following are accounts of lawlessness in the city and human rights violations against the people.
I. Corruption – Extortion and Taxation
At the beginning of April 2012, Lieutenant Colonel Moe Myint Kyaw, commander of Infantry Battalion (L.I.B) No. 283, collected arbitrary taxes from delivery trucks at one checkpoint (tollgate). Vehicles transporting fuel had to pay 20,000 Baht, while beer trucks had to pay 8,000 Baht.  The Lieutenant Colonel accumulated approximately 500,000 Baht from arbitrary taxation over a two-month period from April to May.
The Burmese Army commander also permitted the illegal import of cars and motorbikes, charging 3,000 Baht for each illegal car and 500 Baht for each illegal motorbike being transported from Thailand.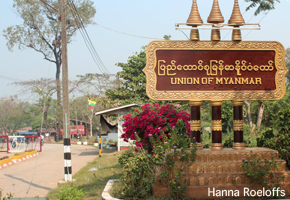 In recent months, there has been a significant increase in living quarters for migrant laborers working in Thai industries and prostitutes working in the town. The local Township municipal and administrative authorities stand to make a lot of money from illegally taxing these new house and apartment owners.
According to our source, the local authorities have requested 5,000 Baht in annual taxes for an apartment room, not including 20 Baht per month for each room.  This tax collection was not accompanied by an explanation of its purpose.
Before the Songkran Festival, also known as the Burmese New Year or Water Festival, authorities collected 10,000 Baht from large business and 1,000 Baht from small shops outside the city.  There were over 200 businesses that had to pay these taxes.
In 2010, the Burmese Army split off some DKBA troops to form a Border Guard Force under their command.  Since the Burmese Army could not support them financially, it allowed these paramilitary groups to collect taxes from travellers.
On May 15th, despite the fact that Township administrator General Secretary U Thein Tun received a 10 million Kyat budget to hold the KNU liaison office opening ceremony and the border development meetings, the authority still commanded township and quarter level administrators to arbitrarily tax residents 30,000 Baht for each quarter, stating that the allocated budget was insufficient.
II. Gambling – Authorities Conducting Illegal Business
At the beginning of February 2012, the ruling Union Solidarity and Development Party (USDP) attempted to prohibit slot machines and gambling as part of their anti-poverty program.  However, some ethnic armed groups are still operating gambling centers in Three Pagodas Pass, and the government has exerted no influence to stop illegal gambling.
Similarly, a Karen ceasefire group opened a brothel and gambling hall near 'Shwe Uu Dawn' lake that supplies prostitution, drugs, and alcohol.
According to an anonymous source, armed groups produce a lot of drugs in Three Pagodas Pass. Although the Burmese Army has known about these illegal activities, they allow some ethnic groups to continue the production.
III. Forced Labor and Forced Service
In the past, in addition to government troops using civilians to be porters to conflict frontlines, they also commandeered trucks, motorbikes, and cars to provide transportation for authorities and soldiers.  The car owners know that they may only receive a small amount of compensation from the authorities, or sometimes none at all, but they have no choice except to agree.
On May 14th, 2012, the "Land Transportation Association" commandeered eight trucks to bring a delegation including Union Railway Minister U Aung Min and Karen State government cabinet members. Only 70 liters of gasoline were provided, and the vehicle owners had to spend their own money to cover the remaining gasoline cost.  One truck was damaged due to rainy conditions and muddy roads, but the owner said he did not receive any compensation for the repairs.
Two days later, on May 16th, 2012, trucks were needed again to return the Ministers and the LIB Troop No. 283 security forces after the event. 29 trucks were used to transport the authorities, and each truck was given only 1,000 Baht for gasoline.
IV. Background on the Border Town
Three Pagodas Pass is a sub-town under the administration of Kya-inn-seikyi Township of Karen State.  It was controlled by Mon and Karen ethnic rebels until 1990, when the Burmese Army occupied it during offensives.
Between 1990 and 1995, many armed ethnic groups entered into ceasefire agreements with the former military government, the State Peace and Development Council (SPDC), and were allocated liaison offices in the town.
In 2010, when the Burmese Army pressured many armed groups to serve as "border guard forces" (tantamount to surrender), many groups withdrew their troops and offices from the town and prepared to fight back.  The DKBA even burned down some polling stations on the November 7th election day. Thousands of refugees fled to Thailand where they camped for over five days.
By late 2011, the new government was approaching the armed groups again to sign new ceasefire agreements.  After signing, the groups reopened their offices in Three Pagodas Pass, where some became involved in illegal business activities.
Comments